Thanks for using Discover Murray River
Houseboats & Houseboating Frequently Asked Questions


With some rates as little as $30 per person per night, houseboating on the
Murray River is the ultimate care free, relaxing holiday.
If you're thinking about going for a Murray River houseboat holiday and never been before,
here are some of our most frequently asked questions.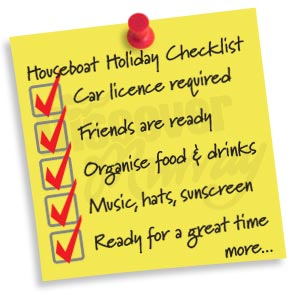 Do I need a boat licence?
You only need an unrestricted car licence to get going.
Is experience needed?
No experience is required. The boat manager will take you out for a lesson before leaving on your holiday. It's easy.
Can anyone drive a Houseboat, even if they haven't done any boating before?
Yes! providing you are over 18 years of age. On your arrival you are given instructions on the operation and navigation of your Houseboat by a fully licenced Operator. You are then taken for a short instructional cruise just to make sure you are comfortable handling the craft.
How many people can go?
From couples to groups of up to 12 people, houseboating is suitable for all ages and is great value. Boat berths vary according to each boat. You can hire from budget to 5 star luxury and from 6 to 12 berth. Children under 12 months of age are generally excluded.
Are Houseboat holidays suitable for children?
Yes! Houseboats are an ideal family holiday. If regulations are adhered to and common sense is used, we can all enjoy the river. Most Houseboats have excellent child safety areas and safety latches.
Can I take my pet on a houseboat?
This is at the discretion of each Houseboat hire business. Generally pets aren't allowed however contact the business if unsure.
What is on the Houseboat?
Just about everything is provided, you bring your personal items. See the houseboat rental checklist for more information.
Is linen supplied?
Normally, yes, however check with the hirer for their policy.
How much bond will I have to pay and when do I get it back?
Cash Bonds vary from boat to boat, usually between $200-$1000. Bonds are returned on the condition of each houseboat hire business. Check their terms and conditions for more information. Single sex groups may attract a larger bond.
How far can I travel?
Houseboats travel at an average speed of approx. 7km per hour. Most people average approx. 4-5 hours per day travelling. See here for river distances in South Australia. Hire in Wentworth, Mildura and Echuca and Moama is limited to boundaries up and down river. There are no houseboat hire businesses above Echuca and generally no one-way hires available unless arranged with particular houseboat hire business.
What is a mid week hire?
A Mid Week hire is from Monday to Friday
Can you consume alcohol on a Houseboat?
Normal drink driving laws apply to Houseboat drivers. The driver may not be above .05 when in control of a Houseboat and have a full driver's licence. Apart from that, have fun, be safe and respect possible neighbours.
Can we get off along the river and buy supplies and sight see?
Absolutely, there is plenty to do along the way, with towns along the river. You can moor along the bank safely in many places unless signed as private property and have a barbecue or go for a walk. Make sure you have your copy of the Discover Murray Trail as a reference tool as you travel or the Murray River book.

When is the best time to go?
Every time of year is different, yet fantastic on the Murray River. The riverscapes constantly change along with visitors to the river.
Winter is a very peaceful time of year great to have a camp fire and snuggle up by the heater. The river is still, not croweded but the crispness and serenity is fantastic. The Murray in winter, is a fantastic time just to escape and unwind.
Summer naturally is a great time to go swimming, skiing and enjoy the river at its most vibrant. Take a dip in the cool waters or sit back and listen to the sounds of nature. This is also peak season for hiring a houseboat.

Is there safe car parking for our vehicles?
Generally speaking most hire places offer secure lock ups some charge and others don't. Please ask your houseboat business their policy on car parking and management. Generally vehicles are left at owners risk. Boat trailers may also be stored.

Is fuel supplied?
Yes, the fuel is supplied, but fuel cost is subtracted from your bond at the end of the trip. Most boats cost between $8 - $20 per hour to run on average. Check with the Operator for approximate usage and cost.
Who controls the Murray River?
Boating policy in South Australia is managed by Transport SA. NSW owns the Murray River to the South Australian border. This is managed by NSW Maritime.
Is Insurance included?
Normally, yes, however check with the hirer for their policy. Providing the terms & conditions of hire are adhered to, the limit of liability is usually the insurance excess. Wilful or negligent damage is not covered.
What happens if I need help?
Houseboats may be fitted with two-way radio's and/or mobile phones for use in case you need assistance. Contact your houseboat hirer business regarding their communications.

Is there navigational info on board?
Yes, usually operators will supply charts. Check with hirer.
Can I drive the Houseboat at night?
No! Houseboats must not be driven after sunset.

Do you anchor at night?
You tie the boat off against the bank during the night, however there is generally no movement.

Do we need to empty chemical toilets?
There is an enclosed septic system onboard. You shouldn't need to empty, but if you do, there are pumping stations along the way which are easy to use. Please consult you hirer.

Will our mobile or cell phones work?
Off and on, but why take a mobile or cell on holiday anyway! Some areas are remote and will not receive reception.
Can I go fishing?
Yes fishing is permitted however in Victoria and New South Wales you'll need a permit. There are also limits on what can be caught in each state. If you catch Carp it must not be returned to the river. Fresh water guide | Bait | Fish Species
Can I go swimming?
Yes, however there are snags and logs dropped under the water. Do not dive into the water unless you're 100% confident of what's below and the depth. The river may have strong currents so please beware. In winter the water is quite cold but it's great in summer. Find out more about safe swimming in the Murray River.
How do I make a booking?
Simply contact the Owner direct, utilise the online facilities on the Murray River website.
---
If you have any other questions you'd like to ask don't hesitate to contact Discover Murray River!
Some information on this page was provided by the Houseboat Hirers Assocation.
---


Tell your friends you found this at murrayriver.com.au!

Copyright Discover Murray 2023. This site or any portion of this site must not be reproduced, duplicated, copied, sold, resold, or otherwise exploited for any commercial purpose that is not expressly permitted by DISCOVER MURRAY.