Thanks for using Discover Murray River
Murray River Golfing and Golf Course Information

Welcome to Australia's longest river golf round
The great thing about the Murray region for golf is you can take short trips along the river and link together a great golfing experience with unique courses and clubs. Use the Discover Murray Trail to visit some of the 41 courses in the Murray region and and have yourself a great Murray River golfing holiday.
Murray River Golf Courses
From the Upper Murray and High Country (Khancoban) to the Murray mouth and Coorong (Goolwa)
Information and contact details may be subject to change without notice.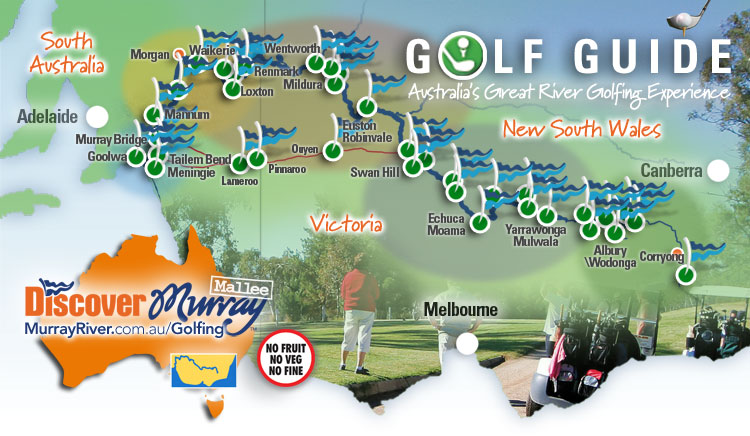 Magnificent Murray River Golf Experiences
For fans of the small ball, you'll find a golfing paradise and manicured greens, sweeping fairways and elegant country clubs. Set within the delightful backdrop of Australia's greatest river, the Murray, the area is an enormous sand belt - perfect for the proliferation of groomed championship and recreational courses.
The amount of sunshine is legendary and so are the picturesque settings for golf. The courses are home to abundant wildlife populations so don't be surprised if you're sharing fairways with kangaroos and birds, along with fellow golfers. There's something to suit every style and handicap, from Barham's par 73 mid-river masterpiece, to the Rich River Golf Club Resort at Echuca-Moama, another exciting and varied test of golf...they're RV friendly too, making it a great place to park the RV and enjoy a relaxing time.
Don't go past the Cobram Barooga Golf Club located at the Barooga Sports Club. The Cobram Barooga Golf Club offers 36 holes of championship standard spread over the renowned Old Course and the newer West Course. Both courses offer a challenge to the serious golfer and are very playable for novice golfers.
Considering the Murray River epitomises the region, you can't pass up a round at Australia's largest golf course, Yarrawonga and Border Golf Club - especially its 470 metre par five which snakes a few metres away from the river's swirling waters.
The combination of reds and greens at Corowa Golf Club are bound to please - the famous red wine of the nearby Rutherglen region and the 27 holes of undulating fairways and greens of the Corowa courses. A little further along the river is another 'gem' of a course, the Commercial Golf Resort Albury.
Other must-plays include the diverse challenges of Tocumwal Golf Club's fine 36-hole layout, and one of the best maintained golf courses on the river - the Ted Parslow-designed course at Murray Downs Golf Club, near Swan Hill.
Each Murray golf course offers a unique set of challenging and picturesque conditions as well as a comprehensive selection of amenities. There are golf shops, course professionals, plenty of fine dining and cool beverages, and on-course accommodation to augment some excellent golf. So pack the clubs in the car and experience a different 18 every day.
Victorian & New South Wales
Murray River Golf Courses

Sand Greens. Course open from April until the end of September.
Holes 9; Length (m) 5570; Par 72
Phone (02) 6026 4489 • Top

Thompson and Wolveridge designed. Thurgoona is only 9km from Albury and 5km from the airport. A highly rated course with wide, undulating fairways, huge greens with tricky slopes, strategically placed bunkers and a splash of water to make some holes more interesting. The Thurgoona Country Club Resort is a 4 star property with 26 well-appointed modern suites overlooking Thurgoona Golf Course, featuring wireless broadband access, individual heating and cooling, mini bars, modern appliances, and remote control colour televisions. Guests may wish to have a round of golf, a hit of tennis or maybe just lounge around the outdoor pool or for the total relaxation a soak in the spa after having a sauna. The Thurgoona Country Club Resort offers full club facilities, a courtesy bus and superb bistro meals. Packages to suit individuals and groups.
Holes 18; Men Par 72; Length (m) 6372 / Women Par 74, Length (m) 5480
Phone (02) 6043 1411 • Top

The 18 hole championship layout is built on 50 hectares of land. The course was designed by Kevin Hartley, Australian amateur golf champion of 1958 and runner up to Bruce Devlin in the 1959. The spacious layout consisting of the traditional 4 Par 3s, 4 Par 5s and 10 par 4s stretches out over 6289 metres for the men and 5326 metres for associates with an ACR rating of 73.2. There are 33 well positioned bunkers to keep the best of golfers honest. Two large dams on the front 9 and Felltimber Creek snaking through the back nine make for a picturesque and challenging day out. In designing the course Kevin has taken advantage of the natural bush environment with native trees being an important feature.
Holes 18; Par 72: Men Length (m) 6173 SR 72; Women Length (m) 5275 SR 73
Pro shop (02) 6059 1552 • Top

The Albury Golf Club is situated in the centre of Albury and boasts a superbly presented course which features a set of consistently wonderful greens regarded as the best in country NSW and is at least the equal of the majority of metropolitan clubs in Melbourne or Sydney. The course presents a real challenge to championship golfers with its tree lined fairways and well placed bunkers, whilst allowing sufficient leeway for all standards to enjoy the layout. The cut fairways are more generous than some championship layouts. This is an excellent summer course with the tree lined fairways giving the area soft shady atmosphere.
Holes 18; Length (m) 5914; Par 71
More information • (02) 6021 1680 • Top
Holes 18; Mens Par 69; ACR 66; Length (m) 5321 / Womens Par 71; Length (m) 5068
Phone (02) 6032 9735 • Top

The Rutherglen Golf Club is an 18-hole sand scrape golf course that is adjacent to the town centre; the clubhouse and first hole are about 500 m from the major town cross road. The course is a testing one of 5321 metres for men and 5068 metres for ladies, with a par of 69 for men and 71 for ladies. The ACR is 66. With the benefits of recycled water, the course is well maintained and remains open throughout the year. Visitors regularly compliment the quality of the course. The ladies run a 9 hole event on Monday mornings, and an 18 hole event on Wednesday mornings. The ladies also run events on the weekends.
The men have 18 hole events on Saturday and Sunday and ladies are welcome to also play at these times. On Friday afternoons there is a chook run for all comers, handicapped and non-handicapped players are all welcome. Playing on sand scrapes seems to phase some golfers but experienced sand scrape players simply regard them as a different challenge to greens. A chip and run game is mostly used and this strengthens the range of skills of the golfer; this is shown by the fact that most local golfers also play very successfully on courses with greens.

Just metres from the mighty Murray River and boasting magnificent scenery, Corowa Golf Club's course is a 27 hole championship-rated course offering challenges to all levels of golfing ability. The original course, one of the most charming to play in Australia, was designed by Al Howard and established in 1955. It is nestled amongst river gums along the course of the Murray River and offers golfers of all abilities a challenging and rewarding round that only a course of this age can. Adam and Marcus Fraser, James McLean and Brent O'Donoghue learned their craft on this course. The front 9 holes, also designed by Al Howard, were established in 1980. The front 9 fairways are mostly long and open, unlike the old course, offering the variety some golfers may prefer. The course itself is rated in the top 100 public-access golf courses in the country. There are practice areas for both putting and driving, with tuition available from the pro shop.
Holes 27; Length (m) 6504; Par 73; ACR 75;
Phone (02) 6033 1466 • Top
A superb 18-hole golf course that will appeal to all golfers. It is a challenge and you will relish a friendly round with your peers. One of the most popular golf courses on the Murray River. The course is always in immaculate condition and is regarded as one of the best all-weather courses in the district. During the winter, the course is well drained with fairways and greens in outstanding condition. In spring this is further heightened when many of our native trees flower. Flat and well drained, with fairways and grass greens kept in peek conditions. Beautifully landscaped lakes provide a water challenge to four holes and a number of well- placed bunkers will test your golfing prowess. Spectacular trees and manicured gardens are a haven for birdlife and wild ducks on the lake. The golf course appeals to all ages as it is flat and the grass greens are kept in peak condition.
Holes 18; Length (m) 5689; Par 70
Phone Club: (02) 6026 5321 • Top

Yarrawonga & Border Golf Club is the largest public access golf resort in Australia, with 45 holes of golfing paradise and includes a new driving range all less than 3 hours drive from Melbourne.
Murray Course: Being one of the most popular courses along the Murray River, the Murray Course meanders through towering river gums and sandy river flats where numerous lakes and lagoons are ready to swallow the errant shot.
Holes 18; Par 72; ACR 72; Length (m) 6085 / Holes 18; Par 72; AWCR 73; Length (m) 5197
Lake Course: The Lake Course is more open than the Murray with big gum trees, plenty of bunkers, strategically placed lakes and undulating greens.
Holes 18; Par 72; ACR 71; Length (m) 5957 / Holes 18; Par 72; AWCR 72; Length (m) 5158
Executive Course: Complementing the two main courses is the shorter and picturesque Executive Course. It is much kinder to the beginner whilst still providing a worthy challenge and enjoyable golf in a natural parkland setting.
Holes 9; Par 33; Length (m) 2248 / Holes 9; Par 33; Length (m) 1940
Phone (03) 5744 1911 • Top

With the first nine holes of the Black Bull Golf Course now open for play, golfers visiting this part of the Murray, will be able to enjoy the efforts put in by course Architects Peter Thompson, Ross Perrett and their brilliant design team. The exquisitely landscaped holes which are wrapped around the waters of Lake Mulwala, will provide an enjoyable experience for the Pro and novice alike.
The Architects have attempted to design a course to excite the imagination and test players of all levels. With only six holes to be completed before the 18 holes are open for play, the front nine is just the entree' to the main "course" which we are all looking forward to.
Phone (03) 5744 0044
Black Bull Golf Course is located at Silverwoods Estate
2.5 Kms East of Belmore St Yarrawonga, Murray Valley Highway • Top

Cobram Barooga Golf Club
Cobram Barooga Golf Club offers 36 holes of championship standard spread over the renowned Old Course and the newer West Course. Both courses offer a challenge to the serious golfer and are very playable for novice golfers. The Old Course measures 6176 metres in length with a par of 72. The Old Course is very traditional in its design with many holes being framed by majestic Red gums and pines. The greens are fast and true with clever bunkering catching wayward shots struck into the greens. With many classic golf holes the Old Course is still the must play course in the area. The West Course differs from the old course in its design which is best described as a mixture of resort and modern links style, the West course is slightly longer than the Old with wider fairways larger undulating greens and well placed hazards.
Old Course: Holes 18; Length (m) 6176; Par 72
West Course: Holes 18; Length (m) 6287; Par 72
Visit Barooga Sports Club for more information
Phone (03) 5873 4304 • Top

Discover Tocumwal Golf Club's 36 Hole Championship Golf Course. Experience the history, charm and natural assets of this Murray River town only 3 hours drive from Melbourne. Tocumwal Golf Club invites you to experience this exceptional sporting venue on the Murray River. Here is a course that never closes - wet or dry regardless of the weather. Current home of the Southern PGA Trainee Championships and situated on Australia's great Murray River. Green fee players are welcome seven days a week.
Two immaculately presented Championship courses with excellent quick greens and gently undulating fairways of wintergreen couch. Captains Course is a 6272 metre Par 72 course, which has 9 new front holes while the back nine has 4 new and 5 old holes. Presidents Course At 6066 metres long with a Par of 72 the Presidents Course offers a vast challenge to all level of golfers. It features famous 4's, thrilling 3's and frightening 5's. Some of the fairway bunkering is a highlight of this course, which contains the greater majority of holes form the original 18 hole layout. The course consists of 9 old front holes with the back 9 having 7 new and 2 old.
Captains Course: Holes 18; Length (m) 6272; Par 72
Presidents Course: Holes 18; Length (m) 6066; Par 72
Phone 1800 631 197 • Top

With 18 perfectly manicured fairways the Deniliquin Golf Course is a shining example of Australia's magnificant country courses.
Deniliquin is only a 40 minute drive from Echuca Moama. There's no need to book tee off times weeks in advance. Simply turn up and you are guarenteed a round without the need for booking.
The club has a picturesque setting located between the CBD and the Deniliquin State Forest.
The Deniliquin Golf Club can cater for functions and all golfing needs. Combined with the Deniliquin Golf and Leisure Resort there are many play and stay packages available.The club also holds may tournaments throughout the year open to both members and visitors.
Holes 18, Length (m) 5817; Par 72
Phone (03) 5881 1325
Golf Club Road, Deniliquin NSW 2710 • Top

The Mathoura Golf Club offers a seasonal sandscrape course, which operates from April to October each year.
Holes 18, Length (m) 5695; Par 70
Phone: (03) 5884 3774 • Top

Australian golf professional Stuart Appleby comments to US golf digest sums up a growing reputation among golfers who've played at Cohuna. That is, "If I had one round to play in my life… it would be there"! A well treed Murray River public golf course, Cohuna's extraordinary fairways and greens are set between towering river red gums alongside the picturesque Gunbower creek on Gunbower Island in Northern Victoria.
Cohuna is a fully watered course. The fairways are lush most times of the year and are beautifully maintained thanks in part to an automated watering system and the sandy soil. The golf course is relatively flat with gentle undulating fairways, winding through the red gum forest, with some creek frontage and the occasional bunker. The main challenge when playing the course comes from tight fairways and fully-grown gum trees that line all fairways. Hitting straight and long will enable you to score well. Chances are that when you miss the fairway, the towering forest red gums will make a direct way to the dance floor a rarity. Golf at Cohuna usually brings encounters with native fauna that include kangaroos, varieties of Murray River bird life and the occasional emu. A nature playground and golfers sanctuary, the tranquil environment of Cohuna golf course epitomises the allure of golf on the Murray beyond the challenge of the game itself. It's the view of many who have played the course that Cohuna is a better golf course than many of the higher profile Murray River courses.
Holes 18; Length (m) 5947; Par 72; ACR 70.1
Phone (03) 5456 2820 • Top

Murrabit Golf Club
Murrabit Golf Club is a semi-private golf course however limited opportunities exist for non-members to play
Holes: 12; Length (m) 5823; Par 73, ACR 68
Phone Clubrooms (03) 5457 2324 • Top

Only three + hours drive from Melbourne, you'll find that golf on the Murray at Murray Downs truly is first class. Widely acclaimed as being the Murray River's finest golf course, Murray Downs is ranked the undisputed Number 1 Golf Course along the Murray River by the leading golf and travel publication. It is the site of one of the most acclaimed and affordable golf course holiday destinations in Australia!
Murray Downs has a great range of golf packages for the travelling golfer, The soil is a wonderful reddish brown, dotted by trees and tufts of natural grasses, making for a striking first impression. Man made lakes help with irrigation and drainage, and a mass of flowering native gums line all fairways. Couch grass fairways are superbly manicured and groomed with a defined second cut. Water hazards come into play on numerous holes and soft white sand adorns the bunkers.
Although an easy walking golf course layout, small hills, bumps and rolls break the landscape. The bent grass greens are generally large, undulating and very fast with thoughtful tee positions, pin placements and excellent grooming. Everything that you would expect from a top ranking Murray River Golf Course is at Murray Downs.
Holes 18; Mens Par: 72, ACR: 72, Length (m): 6053 / Womens Par: 72, AWCR 74, Length (m) 5326
Free Call: 1800 807 574 • Top

Nyah West Golf Club is a semi-private golf course however limited opportunities exist for non-members to play.
Holes 18; Length (m) 5786; Par 73; ACR 67
Phone (03) 5030 2295 • Top

4 km north of Nyah you'll find the Nyah District Golf Club. Grass greens, gum tree environment with creek beside various fairways. Gently undulating, fully watered. Kangaroos and numerous parrots including endangered Grey Babblers.
Holes 18; Length (m) 5710; Par 71, ACR 69 • Phone (03) 5030 2396 • Top

Grass greens, flat terrain, substantial number of planted trees, entire course watered. Four holes bunkered and three lakes. Neat dress code. Mens Comp. Wed, Sat, Sun Ladies Comp. Tues, Thur, Sun Mixed Comp. Fri twilight nine holes daylight savingVisitors welcome to enter. Green fee players any day by arrangement. Club House: fully licensed, bar open from noon daily. Meals Thur - Sun evenings. Showers and changing rooms.
Holes 18; Length (m) 5717; Par: 71
Phone: (03) 5026 3286 • Top

Rated as one of the top 30 golf courses in Victoria by touring professional Mike Clayton, the golf course retains its original native mallee and pine vegetation with some introduced native tree varieties. The terrain is gently undulating with wide, open grass fairways and 18 bent grass greens that are all manicured immaculately. The course is fully watered and features a greenside water hazard and three lateral water hazards that are home to abundant native bird life. Visitors are welcome to join in the club competition days or the hospitality of club members in the friendly licensed clubhouse. On-course facilities: Licensed clubhouse, practice fairway
Holes 18; Length (m) 6033; Men Par: 72; ACR 70 / Womens Par 72; ACR 70
Phone (03) 5024 1531 • Top

The Riverside Golf Club is located on the banks of the Murray River 6 kilometres from the centre of the City of Mildura. The golf course features 18 grass greens and watered fairways set amongst majestic river red gum and box trees. Riverside is home to abundant native bird life, particularly water birds that nest in the natural billabongs adjacent to the Murray River itself. Enjoy the licensed clubhouse, which is open Wednesday to Sunday and popular bistro dining every Friday evening over the summer months. The on-course golf shop is open every day for equipment, snacks and drinks. Professional tuition is offered by appointment. Visitors are welcome to join in competition days. On-course facilities: Licensed clubhouse, pro shop, practice fairway
Holes 18; Length (m) 5771; Men Par 72
Phone (03) 5023 4255 • Top

Located close to the town centre, this course has excellent bent grass greens and challenging green side sand traps. The automatically irrigated fairways have a lush grass cover and strategically placed water hazards that challenge all golfers. The attractive new clubhouse has full bar facilities as well as a bistro dining area. The Mildura Golf Club owns and operates a 40-unit motel and boasts two attractive swimming pools and barbecue areas. An on-course professional operates a well-stocked pro shop and offers full tuition by appointment on the well-maintained practice fairway.
Holes 18; Length (m) 6011; Par 72
Phone 1300 366 883 • Top

Enjoy the challenge of this championship course at Dareton in New South Wales. Laid out on Murray River clay country, the fairways are sown with santa anna couch and the greens quick and subtly shaped. The modern, fully licensed clubhouse offers bar and dining facilities as well as gaming machines for guests and visitors. A resident golf professional operates a pro shop and offers tuition. On-course facilities: Licensed clubhouse.
Holes 18; Length (m) 6250; Par 72; ACR 73
Phone (03) 5027 4517 • Top

This challenging golf course has been built on flat country that features native mallee trees and vegetation and abundant bird life. Fairways are fully watered and the course has 18 grass greens, some of which are bent grass and some santa anna couch. The course design incorporates a number of interesting dog-leg par-four holes. The absence of sand bunkers and the challenging greens are the distinguishing features at Merbein. Visiting golfers never find it difficult to get on the course either as green fee or competition players. On-course facilities: Licensed clubhouse, warm-up net, practice putting greens.
Holes 18; Mens Length (m) 6107; Par 72; ACR 69 / Womens Length (m) 5176; Par 72; ACR 71
Phone (03) 5025 6421 • Top

This golf course boasts lush santa anna couch fairways between stands of large river gums, western black box and natural bushland. The undulating tree-lined fairways wind their way around eight lakes, which come into play on nine of the course's holes. Tackle tricky bent grass greens, subtle contours and a true surface that will always reward a good putt. A modern clubhouse overlooks this unique golfing landscape.
Holes 18; Length (m) 5694; Par 71
Phone (03) 5027 3244 • Top

South Australian
Murray River Golf Courses

Renmark Golf Club is about 5 kilometres west of the Renmark township. Today the course is a lush oasis, with typical semi-arid landscape just outside the boundaries of the course. The course is set in parkland with 11 holes on flat tree lined country and the remainder have gently rolling undulations. Renmark's tight, tree lined, fully irrigated, grassed fairways demand accurate driving to reach the well maincured and bunkered greens. The course is both a joy and a challenge to play as one experiences this oasis in the sun. On course accommodation is available at the Renmark Country Club which has commanding views of the 12th and 13th fairways.
Holes 18; Length (m) 6120; Par 72
Phone (08) 8595 1514 • Top

The Loxton Golf course is located 8kms from the town of Loxton. Enjoyable for golfers at all levels the course is challenging but fair and rewarding for good play. The greens are regarded by many top golfers as among the best greens outside Adelaide for their consistency and high quality, including surrounds. Lush irrigated fairways provide a high standard playing surface all year, although, the course usually reaches it's peak during the winter season. There are sand bunkers on 10 holes and a varied range of grassy mounds on the surrounds of most holes. The course has an abundance of native shrubs and shade trees lining fairways and tees. A practice fairway, chipping and putting greens are available. Electric golf carts are also available for hire. The course is open 7 days apart from major events. Light traffic/immediate access most days. Beer, snacks and meals by arrangement. Group bookings welcome by appointment. See our website for full details.
Holes 18; Length (m) 6079; Par 72
Phone (08) 8584 1490 • Top

Berri Golf Club is on the edge of the town, set amidst natural mallee trees with complementary native plantings. The fairways and greens are all fully irrigated. Excellent bar facilities, meals, gaming and golf carts are available seven days a week. The par 71, 6019m (par 73, 5284m for women) course is a challenge. The irrigation is fully controlled and much of the rough is also watered meaning play is almost always on grass. The greens are a mixture of bent, cobra and pennlink grasses giving an excellent surface. Most fairway are a blend of couch, Kentucky blue and fescue but in recent times some have been converted to santa anna which thrives in the conditions. A feature of the course is the opening hole. It is a par three of 161m from an elevated tee landscaped with roses and shrubs and plays up a slight rise to a green set among tall gums. The signature hole is the par four eighth. It is a gentle dog let where the approach shot must avoid bunkers on both sides of the green. The eighteenth is played from a two tiered tee adjacent to the Big River Motor Inn and is also played under the watchful eye of those enjoying the facilities of the Big River Tavern at the clubhouse.
Holes 18; Men Length (m) 6019; Men Par 73 / Womens Length (m) 5284; Par 73
Phone (08) 8582 3666 • Top

Barmera Golf Club is right on the shores of the Murray in the heart of the Riverland. It is one of the five courses within a 45 minute driving radius. The fully irrigated couch fairways and greens would be the envy of many clubs. The course is a par 72 over 6,110m of gently undulating ground. Watch for the signature, 337m dogleg 15th hole. The clubhouse has lovely view of the 1st and 18th holes, a group of 9 magnificent tennis courts and Lake Bonney. It is open Tuesday to Sunday with regular men's and women's competitions. Accommodation is available with the beautifully appointed Barmera Country Club situated on the course proper. All rooms overlook fairways are are within easy walking distance of the 1st tee. The club house has full facilities including a bar, snacks and showers. Friday night teas are a feature.
Holes 18; Length (m) 6110; Par 72
Phone (08) 8588 2350 • Top

The Waikerie Golf Course is a well manicured course, lush fairways lined with a large variety of native trees and the sounds of a variety of native birds. The 18 hole fully irrigated course features large elevated greens surrounded by grassy mounds and hollows. The Waikerie Golf Course is nestled amongst the Sunlands citrus area in gently rolling sand hills, 11km west of Waikerie. Drop into our club rooms to register before you tee off. Enjoy a drink and a snack while overlooking the course from our well facilitated club rooms. Great views of the course from the club rooms lounge area. The dining area can also be booked for functions.
Holes 18; Length (m) 5936; Par 70
Phone (08) 8541 9072 • Top

Swan Reach Golf Club is a par 71, 5,531 metre 9 hole golf course. It is a semi-private golf course however limited opportunities exist for non-members to play.
Holes 9; Length (m) 5434; Par 71
Phone (08) 8570 2340 • Top

Mannum Golf Club is just over an hours drive east from Adelaide, situated at Mannum in the lower Murraylands region of South Australia. The course is a mix of flat and undulating land and has watered fairways and greens. Par is 73 for men and 72 for ladies. The course is a nine hole layout and land has been purchased to allow the development of a complete eighteen hole course. Two sets of tees are currently in use and each nine plays differently. Fairways are watered at night so golfers can enjoy an uninterrupted round during playing. In winter Mannum receives very little rain making it an ideal place to play when other golf courses are virtually unplayable due to wet conditions. The course has few bunkers and no water hazards - you will be thankful for this once you deviate from the fairway and experience the rough!
Holes 9; Length (m) 5707; Par 73
Phone (08) 8569 2066 • Top

Murray Brige Golf Club is in the heart of the Rural City of Murray Bridge. The 18 hole course is supplied with picturesque surroundings, gently undulating fairways fringed with well established trees and excellent greens. The course is fully irrigated and offers superb playing conditions all year round.
Holes 18; Length (m) 5192; Par 68
Phone (08) 8532 6535 • Top

A nine hole course that improves itself by having tee off's in different locations for the front and back nine. Another course that is nice and lush despite being in a very dry area. Not a lot of trouble around Tailem Bend with no thick rough to find your ball, but a few trees around the place can cause some concern if wayward. The 6th/15th is an interesting hole which plays as a long par 3 the first time round, and a short par 4 on the back. A nice big green and a narrow opening means this is a great hole. Only one par 5 on the course and thats the 9th/18th which runs along the Princes Highway bringing road trains into play if you happen to get the hook out. Good little nine hole course thats great value too, and as flat as any course you are ever likely to play.
Holes 9; Length (m) 5403; Par 70
Phone: (08) 8572 3115 • Top

The Lake Albert Golf Club in Meningie, South Australia is a full 18-hole, Par 72 course. Situated 150kms from Adelaide. A 1½ hour drive down the South Eastern Freeway to Tailem Bend then turn right on to Highway 1 (Princes Highway). Once reaching Meningie continue through town, where the entrance to the golf course is 500 metres past the police station. A large sign is erected.
Holes 18; Length (m) 5678; Par 72
Phone (08) 8575 1078 • Top

South Lakes Golf Club, situated at Goolwa on the Fleurieu Peninsula and only 80kms from Adelaide by road. A seaside resort where the Murray River meets the Southern Ocean. Play golf on their 18 hole course with Santa Anna Couch fairways and excellent greens, set against a backdrop of sand dunes. Flat terrain and easy to walk.
Holes 18; Length (m) 5773; Par 70
Phone (08) 8555 2299 • Top
Mallee

Holes 18; Length (m) 5892; Par 71
Phone (03) 5092 1068 • Dakers Street, Ouyen Victoria 3490 • Top

Holes 18; Length (m) 5748; Par 73
Phone (08) 8577 8272 • Devon Terrace, Pinnaroo South Australia 5304 • Top

Holes 18; Length (m) 5513; Par 71
Phone (08) 8576 3470 • Chandos Terrace, Lameroo South Australia 5302 • Top
---


Tell your friends you found this at murrayriver.com.au!

Copyright Discover Murray 2023. This site or any portion of this site must not be reproduced, duplicated, copied, sold, resold, or otherwise exploited for any commercial purpose that is not expressly permitted by DISCOVER MURRAY.