Thanks for using Discover Murray River
Trails and Locations for Canoeing and Kayaking on the Murray

1 Ringbarking
2 Canoe Tree
3 Aquatic Life
4 Drowned Trees

5 Plant Life
6 Tree Hollows
7 Irrigation
8 Bird Sanctuary

Gunbower Island State Forest

Gunbower Island, near Cohuna, lies on the floodplain between the Murray and Gunbower Creek. It has a water frontage of 130 kilometres with 20,000ha of state forest covering about 80 percent of the island. Until damming, the red gum and box forests were flooded every year and today still depend on the occasional inundation.

The forests and wetlands draw fisherman, canoeists, campers and walkers. The great varieties of waterbirds are a feature. There are camping and picnic spots along the length of the Murray and Gunbower Creek. The island has a circuit walk that takes 7-8 hours. There are numerous tracks to the island from the Murray Valley Highway. Access through Cohuna (where there is a caravan park and motels), Gunbower or Koondrook.

---
Chowilla Canoe Trails

Chowilla is renowned for being the best kayak/canoe camping area in South Australia. A network of a dozen creeks wind their way off the Murray and through the flood plains for over 100kms. Expeditions of up to a week can be planned without paddling the same waterway twice. Several creeks are only accessible by canoe, so if you want to get right away from it all, this just might be the place.

A reasonable level of paddling experience and competence in navigation is required. There are many creek intersections but no signs, and no mobile phone coverage. Most routes will require at least one portage of about 100m around a weir. Some creeks also have logs to drag over or portage around. Due to Chowilla's remoteness it is important to leave a trip intention including your proposed route with a trusted person and/or DEWNR (Department of Environment Water and Natural Resources).

Many paddlers start their trip from Old Customs House at Border Cliffs. This has an all-weather access road and circuit routes can be planned to finish back there again. Another option is a one-way trip including the Ral Ral Creek system and finishing in Renmark. Accessing local knowledge of current conditions is very important as some creeks can become very difficult to paddle through.

Information supplied by: Canoe Adventures Riverland (ph. 0421 167 645) hire canoes, kayaks & camping equipment and can provide transport for launching and pick-up at various different places. They are always happy to update you on current conditions.


Morning Mist on Slaney Creek - Chowilla


Drifting on Punkah Creek - Chowilla




---

Cruising Loch Luna

Loch Luna Canoe Trail

The Loch Luna area is something of a paddler's hidden gem. Tucked away off the main river in a world of it's own, it features gently meandering creeks, a diverse range of waterbirds and possible glimpses of kangaroos, native water rats and goannas. It has an extensive network of waterways that is ideal for short paddles through to 2 or 3 days canoe camping trips. Nockburra and Chambers Creeks wind their way between the Murray River and Lake Bonney allowing an enticing choice of one-way or loop routes for both novice and experienced paddlers.

There are many National Parks campsites in the area along with the option of bush camping on one of the many islands.

Road access to launch spots is good, but take care if it's recently rained - clay tracks over the floodplains become very slippery when wet! Current local information is also important when planning a route as some creeks can become completely blocked by reed growth even though canoe maps show a clear passage.

Information supplied by: Canoe Adventures Riverland (ph. 0421 167 645) hire canoes, kayaks & camping equipment and can provide transport for launching and pick-up at various different places. They are always happy to update you on current conditions.

---
Katarapko Canoe Trail

Katarapko section of the Murray River National Park

Katarapko Creek Canoe Trail is perfectly suited to a day paddle or overnight kayak/canoe camping. It is easily navigated and has many good campsites to choose from. Car access to launch and finish points is good. Paddlers with appropriate equipment and a basic skill level will find the Katarapko region an interesting and safe area to explore. Never the less, it is wise to take into account the planning considerations outlined at Canoe SA. It is also important to check the weather forecast.

In the summer, day time temperatures can be over 40C and so adequate precautions need to be taken on those days, such as staying in the shade and minimising physical exertion during the heat of the day, drinking adequate quantities of water and wearing appropriate sun protection. For those with limited experience or those new to the area it is useful to speak to someone with local knowledge (DEWNR Berri or Canoe Adventures Riverland 04211 676 45) before embarking on a trip in the area.

Katarapko Section

For a one way trip, a good option is to launch at Lock 4, three kms upstream from the where Katarpko Creek branches off from the Murray. Any designated campsite along the way is a possible finish point as they all have vehicle access. Most often paddlers finish at Milichs Landing (on the Murray just after the end of Katarpko Creek) or 6kms further along the Murray at Loxton.

A launch and pick up service is available with Canoe Adventures Riverland: Ph 0421 167 645 (they also hire kayaks, canoes and camping equipment). A 40m portage is required around the Stone Weir on Katarapko Creek, but otherwise the paddling is easy – a good option for novices who haven't canoe camped before.


Katarapko Creek Camping

Eckert Creek Section

The Eckert Creek Section is best suited to paddlers with a moderate level of skill and experience. It has become narrowed in sections by the growth of reeds due to limited river flows and levels. This will be significantly improved in autumn 2016 when the Eckerts Creek inlet regulator is complete and average flows will increase threefold (extensive works are being undertaken to rehabilitate this area under the Katfish Reach Project to. It will have huge benefits to the whole environment and also improve access for paddlers). It is a challenging but rewarding paddle, with shallow sections and several portages required. Note: it is important to gain current local information before planning an Eckerts Creek trip, as environmental management occasionally involves drying cycles for some sections.

---

---
Paiwalla Canoe Trail
Explore the environment surrounding the Paiwalla and Sunnyside Wetlands, situated on the Lower Murray of South Australia. The Paiwalla Wetland Canoe Trail is an 8 km trail incorporating a section of the Murray River and marked sections of trail through the Paiwalla Wetland and Sunnyside Reserve. Visit website
---
Murray Bridge Canoe Trail
Launching at Sturt Reseve just by the Murray Bridge Rowing Club, paddle upstream past Captain Proud, this where rail meets the river at the Murray Bridge Wharf, The rich history of Murray Bridge is waiting to be explored. Trail PDF (177kb)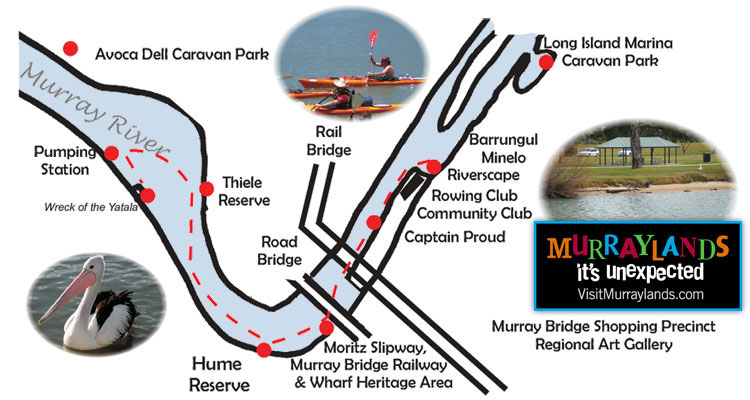 ---
Other Great Canoeing and Kayaking Locations
Lake Mulwala
More than 15km in length, Lake Mulwala is a haven for birds such as pelican and ibis and native fish and is used all year for a variety of water sports. Work on the lake began in the 1930s with the damming of the Murray River at the Yarrawonga Weir as part of the Murray-Darling Irrigation Scheme. The eastern end of the lake offers shelter among the dead trees while the western end has a large expanse for sailing and boating. Murray cod, trout and yellow belly seem to thrive in the lake. Enjoy picnicking, bird watching, fishing, boating, sailboarding, water-skiing, swimming, canoeing, sailing, and paddle boat cruises. Access is from the Murray Valley Highway, Yarrawonga-Benalla Road or Yarrawonga-Wangaratta Road.
Lindsay Island
Lindsay Island forms part of Murray Sunset National Park and is located 90 kilometres west of Mildura towards the South Australian border. Lindsay Island is intersected by numerous small creeks carrying floodwaters from the Murray River into swamps, billabongs and flood plains. The island is home to a significant array of plants such as River red gums and black box woodlands and animals such as wedge tailed eagles, emus, red and western grey kangaroos. It has a long history of human occupation by indigenous people followed by early European settlers grazing sheep and cattle. It is a popular destination for camping, fishing, driving and canoeing.
Hattah-Kulkyne National Park and Murray-Kulkyne Park
Just off the Calder Highway 70 kilometres south of Mildura, Hattah-Kulkyne features mallee and woodland country, magnificent River Red gums, and a lake system seasonally filled by creeks connected to the Murray River. The tranquil waters of the extensive lakes system fed by Chalka Creek contrast with the mallee scrub and cypress pine woodland, one of only 3 Biosphere Reserves in Victoria. Camping, walking, bike riding, driving and canoeing are popular activities. Two basic campgrounds are located in the National Park at Lake Hattah and Lake Mournpall, whilst there are many riverside bush camps in Murray-Kulkyne Park where generators and dogs on leads are permitted. Fishing licences and supplies are available at the nearby Hattah store.
Canoe and Kayak Hire
Find places along the Murray River to hire canoe and kayak equipment.

Canoe and Kayak Trips, Tours and Adventures
Operators along the Murray River who run canoeing and kayaking trips, tours and adventures
---
Home > Kayaking Canoeing > Trails and Locations for Canoeing and Kayaking on the Murray

Back | Home | Top


Tell your friends you found this at murrayriver.com.au!

Copyright Discover Murray 2023. This site or any portion of this site must not be reproduced, duplicated, copied, sold, resold, or otherwise exploited for any commercial purpose that is not expressly permitted by DISCOVER MURRAY.