Thanks for using Discover Murray River
Riverland South Australia where the Murray River weaves
Welcome to the Riverland, Murray River, South Australia

(proceeds to the Lions Club of Berri)

In the Riverland, the Murray weaves past some of Australia's most impressive river scenery: cinematic backdrops of limestone cliffs, graceful river red gums and Mallee country, as well as willow-edged parks and lush vineyards, orchards and citrus groves.
For most of its predominantly east-west route through Australia, the river forms the border between New South Wales and Victoria. The Riverland region begins where it crosses into South Australia, and for 300 kilometres it creates wide lakes, reed-lined narrow creeks, islands and wetlands of infinite variety.
Less than a two-hour drive from Adelaide, the region is much-loved as a destination for outdoor and water-based activities such as houseboating, fishing, golfing, bushwalking, swimming, gliding, canoeing and skiing. And for sheer relaxation: lazy days on the riverbank watching the distinctive river birds, exploring museums and galleries, also visiting cellar doors and local produce outlets are always rewarding.
The network of backwaters, wetlands and lagoons are home to abundant wildlife and fast becoming ecotourism treasures. The region includes the UNESCO-listed Bookmark Biosphere Reserve (BBR) and 40 national and conservation parks that protect widely differing ecosystems.
As the river's course twists and turns, and its waters spread out into lakes and convoluted lagoons and wetlands, you might be forgiven for thinking it was reluctant to leave the Riverland. Which is how you will feel once you visit this richly rewarding region.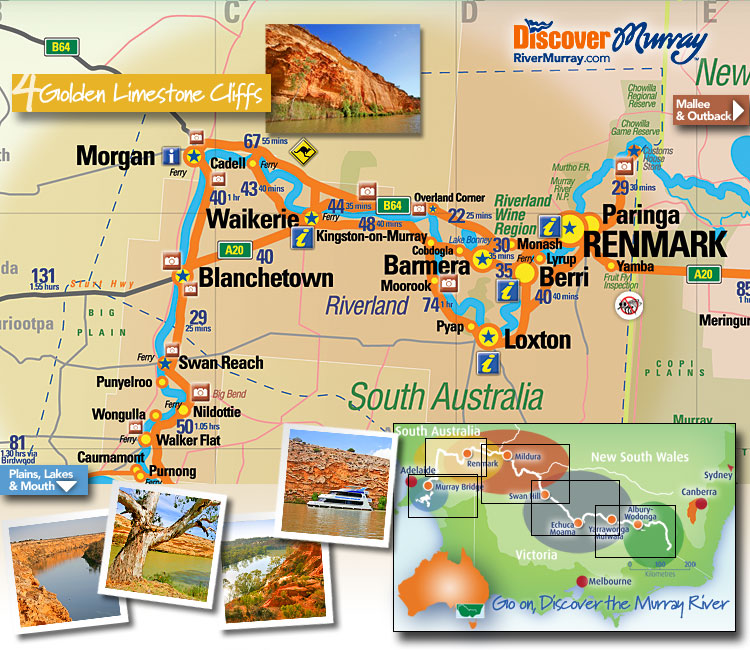 Riverland Towns
Although they're not far apart, each of the Riverland's towns has its own personality. They're a great starting point for all river adventures, and great destinations in their own right.
Below is a facilities guide to assist in planning your trip to these great country towns. Visitor information centres or outlets can help you with specific town information and accommodation. We look forward to welcoming you to the Riverland!
Blanchetown
132km NE of Adelaide
Population 211
Morgan - Cadell
163km NE of Adelaide
Population 424
Morgan Visitor Centre
Waikerie
177km NE of Adelaide
Population 1,170
Waikerie Visitor Centre
Berri - Monash, Glossop, Lyrup, Loveday
230km NE of Adelaide
Population 4,241 (Berri)
Berri Visitor Centre
Barmera - Cobdogla, Overland Corner, Kingston-on-Murray
220km NE of Adelaide
Population 1,946
Kingston-on Murray
214km NE of Adelaide
Population approx 200
Barmera Visitor Centre
Loxton - Moorook
The Spirit of the Riverland
255km NE of Adelaide, 20km S of Berri
Population 3,358
Loxton Visitor Centre
Renmark - Paringa
254km NE of Adelaide
Population 4,470
Renmark Visitor Centre
Go with the flow
The pace of the river is the pace life ought to be: peaceful, relaxed and almost no traffic!
River Cruising
Cruise the waters on vessels large or small, historic or state-of-the-nautical-arts. Let the good times flow on one of the mighty river boats, old or new. The historic paddle-steamer PS Industry fires up its boilers on the first Sunday of every month for a run from Renmark. The River Rambler at Renmark and the Loch Luna at Kingston-on-Murray make regular voyages of discovery. And away from the main channel, backwater cruises or safaris can take you to inland islands and estuaries inaccessible by most vessels.

The ultimate Murray River cruise is aboard your privately chartered houseboat. Believe it or not, all you need to captain a houseboat is a driver's licence or a motorboat licence.
Both accommodation and transport, these purpose-built river boats give you all the freedom you need to explore long stretches and the landscapes of the river - or do a lot of nothing. You can also pull up onto the many sandy beaches along the river, which are great for swimming or campfires.
Vessels in the Riverland fleet can accommodate two to 12 people, with a range of hire periods and facilities - some are floating palaces! They can be hired in most towns and costs vary according to the season, size and facilities.
With its excellent weather, over 400 mooring spots, easy to navigate stretches of river and less river traffic than other regions, the river will help you find the right holiday pace.
Catch of the Day
Patience pays dividends when wetting the line in Australia's greatest river. There's a wide variety of catches of which yabbies and callop are the most popular. Yabbies are best in the warmer months and often caught in backwaters and in deep water. Hoop nets are relatively inexpensive and suit most conditions - a punctured cat food tin can also be just as effective!
A simple hand line is all you'll need to catch callop, also called golden perch or yellow belly. They tend to stay below overhanging willows, among fallen timbers and along clay banks.
A number of fishing regulations are in force to protect our precious supply of fish. Some fish species are protected, others have closed seasons. Be aware that size and bag limits apply for some species, so find out before you fish.
For more information see the South Australian Recreational Fishing Guide. It's available from retail fishing outlets, visitor information centres and statewide PIRSA Fisheries Offices or visit click here.
Walks, wildlife and waterways
The Riverland is rapidly becoming a national benchmark for coexistence of tourism and the environment. With some of the Murray River's most dramatic and lovely scenery, a remarkable diversity of wildlife and botany, and its protected areas, tour operators and landowners committed to environmental sustainability, the Riverland will provide you with a naturally unforgettable experience
It's easy to get off the beaten track and explore the many hidden secrets of a relatively untouched river environment, especially in the national parks and protected areas that include long stretches of the river, wetlands and the Mallee. See the next page for details about our major national parks.
But our ecotourism experiences aren't confined to these special places.
The UNESCO-listed Bookmark Biosphere Reserve comprises of national park, game reserves, pastoral leases and National Trust properties. The Bookmark includes one of the largest continuous stands of Mallee left in the world and great stretches of waterways. It is home to rare and endangered plants, birds and animals.
One special part of Bookmark is Birds Australia Gluepot Reserve, 64 kilometres north of Waikerie. It's home to rare and endangered plants, birds and animals, including the Black Eared Miner, Red-lored Whistler and the Mallee-fowl. You can visit Gluepot anytime. Walking trail and bird-watching information is posted on site at the Michael Hyde Visitor Centre.
If you are in any doubt of where to go and what to see, Bookmark Guides are fully accredited tour operators who conduct dinghy, walking and bird-watching tours (contact visitor information centres for details).
Another of the region's (and Australia's) major ecotourism experiences is Banrock Station Wine & Wetland Centre at Kingston-on-Murray. A visionary project by the Hardy Wine Company, Banrocks state-of-the-art vineyards and carefully restored wetlands provide the natural infrastructure for this ecotourism masterpiece.
Visitors can explore the beauty of the backwater ecosystem on two walking trails through the Mallee woodlands and wetlands. The Centre also offers light meals and wine-tasting in a striking contemporary building.
It should be no surprise that there's a huge network of walking, bike and car trails spread along the waterways, through wetlands and the Mallee, as well as canoe routes through channels, lagoons and creeks, camping grounds in tranquil places and scenic drives throughout the region.

National Parks of the Riverland
The Riverland, renowned for Australia's largest river, is one of the best holiday destinations in the state. The Murray River is fantastic for people of all ages including families seeking a relaxing and affordable holiday. Parks of the Riverland boast amazing scenery, an abundance of recreational activities and significant cultural history. The area has been inhabited by Aborigines for over 30,000 years and became a busy trade route for paddle steamers after European settlement.
Experience the region's amazing flora and fauna. Majestic River Red Gums line the creeks and river and a sea of mallee gums stretches as far as the eye can see. Water and mallee birds delight avid birdwatchers and include spoonbills, White-faced Herons, Sacred Kingfishers, Yellow Rosellas, Great Cormorants, Regent Parrots, Pelicans and Laughing Kookaburras. If you listen carefully, you might hear the beautiful but rare Mallee Emu Wren and elusive Malleefowl.
Go canoeing. The Riverland is one of a few places in South Australia that offer this activity. Take an existing canoe trail or discover your own, and explore the scenic backwaters and lagoons. Popular canoeing spots are Loch Luna Game Reserve and Katarapko Creek in Murray River National Park.
Camp in fantastic surrounds. A variety of campsites are located among mallee gums and along the River Murray and adjoining creeks. Camping offers adventure, relaxation, and the opportunity to get up-close to nature. Permits are available from the DEH Berri office and visitor information centres throughout the Riverland.
Get into bushwalking. Trails that let you experience the Riverland's amazing natural environment include the Border Cliffs Customs House Wetland Walking Trail at Chowilla Game Reserve, Kaliwirra Wetland Walk in Moorook Game Reserve, and the Target Mark Walking Trail at Danggali Conservation Park. Take your binoculars for a wonderful birdwatching experience. For something different, experience the Craggs Hutt Grave Walking Trail at Katarapko, Murray River National Park and learn about the area's European history.
Murray River National Park
Relax with family and friends at Murray River National Park. Cast a line, paddle down Katarapko Creek, or simply sit back in the shade and enjoy the environment around you. Other fun activities include bushwalking, boating, swimming and camping.
The park consists of three areas (Katarapko, Bulyong Island and Lyrup Flats) that form an archipelago park and conserve a number of flood plain environments.
Chowilla Game Reserve and Regional Reserve
This is the perfect place to remove yourself from the pressures of the everyday world. The park, located 280km north-east of Adelaide, has abundant bird life and a variety of plants including River Red Gums that provide a natural bush setting for picnics, camping, boating, swimming, fishing and more.
Chowilla is great for canoeing and bushwalking, with various trails available.
Danggali Conservation Park
See the park that was classified in 1977 as Australia's first Biosphere Reserve under UNESCO's Man and the Biosphere Program. This program aims to protect representative samples of ecosystems throughout the world. Known for its vastness and wilderness appeal the park is dominated by mallee scrubland. The park has heritage-style accommodation available, and is also a great place for camping. There is plenty to do, including bushwalking on the Target Mark trail and Nanya's Pad Interpretation Drive, a 100km drive on a two-wheel drive circuit for those who prefer a less rugged activity. Danggali has relics of early settlement and a rich pastoral history with old sheep stations still evident throughout the park.
Great days out
For true thrill seekers, the highs can be very high indeed. Soar with the pelicans in a glider at the Waikerie International Soaring Club or charter a small plane with Berri Air for fabulous views of the river and its many landscapes. For those with cliff-hanging tendencies, some of the river's most spectacular limestone cliff-faces are here in the Riverland.
If your ideal adventure is a little more down to earth, explore the tributaries on a backwater dinghy cruise or boat safari, or head into the Mallee on a bird-watching expedition. Explore the wider countryside on a camel safari.
With kilometres of uncrowded waterways, the Riverland is still the best inland spot to get wet. The water-skiing school on the Renmark riverfront can help you try your hand at water-skiing, barefooting, kneeboarding and wakeboarding. Barmera's Lake Bonney is perfect for canoeing, skiing and other water sports.
The strong community participation in sports has seen the development of sporting facilities that rival those in any capital city.
Few regions in Australia can boast five top quality golf courses within 25 minutes of each other. Waikerie, Barmera, Berri, Loxton and Renmark attract thousands of visitors each year to their superbly maintained courses. Tennis, lawn bowls, hockey, swimming, basketball, football, rowing, skating facilities and more are all available to visitors. And all Riverland towns are blessed with numerous parks and reserves offering extensive lawns for recreation - many on the banks of the river.
Why Choose the Riverland?
With the Murray River as its backdrop, the Riverland provides limitless ideas and opportunities for you the conference organiser to create fun and different business events. Long regarded as a favourite holiday spot for South Australians and a preferred touring route for the long-distance traveller, the Riverland has established itself as a great getaway destination.
It is no wonder that the region is gaining a reputation for hosting unique business events. With its diverse range of industries, the Riverland is the ideal venue for any rural-themed conferences or seminars. Geographically situated near the border of NSW, Victoria and South Australia, and nearby to the regularly serviced Mildura Airport, the Riverland is central for many delegates. Just a two-hour drive from Adelaide - and yet a world apart.
The Riverland has all of the facilities to make your conference or incentive trip a memorable one. With newly built function venues, executive river-view accommodation and a host of restaurants and caterers, you won't need to lift a finger. The Riverland is ideal for incentive travellers with world-class golf courses, river cruises, internationally awarded attractions and, of course, superb wine and food experiences.
Sounds great...come and stay with us in the Riverland!
---


Tell your friends you found this at murrayriver.com.au!

Copyright Discover Murray 2022. This site or any portion of this site must not be reproduced, duplicated, copied, sold, resold, or otherwise exploited for any commercial purpose that is not expressly permitted by DISCOVER MURRAY.