Thanks for using Discover Murray River
Bonegilla Migration Centre - Wodonga
The Bonegilla Reception and Training Centre opened at the end of 1947 to provide temporary accommodation for displaced persons while they waited on deployment to jobs all over Australia. The accommodation was rudimentary as there were housing and building materials shortages in Australia due to the war effort. Many of the displaced were recruited from European refugee camps and were used to communal living in similar quarters. In 1950 the Commonwealth had 23 migrant accommodation places. Most of them, like Bonegilla, were former defense force installations.
Unlike most of the other accommodation places, Bonegilla did not close at the end of the Displaced Persons scheme. The government wanted to attract more migrants and refugees to meet the ongoing demand for labour. Skilled migrants were often family men, and the government hoped that the provision of temporary accommodation on arrival, not matter how basic, would attract them. At the same time, Bonegilla would continue to house unskilled migrants - mostly non-British refugees - who were still in demand. Further, the Reception Centre provided emergency accommodation that allowed Australia to respond quickly to the needs of large numbers of people fleeing Hungary in 1956-57 and Czechoslovakia in 1968. Bonegilla was the largest and longest-lasting migrant reception centre in Australia.
Like the 309,000 newcomers to Australia who passed through the Centre, visitors today still ask: Where and what is this place?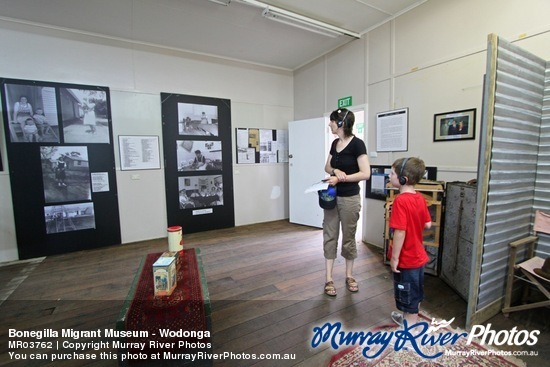 Choice of location
During World War II, Albury-Wodonga became strategically important for the Australian army. Munitions deposits, ordnance stores and army units were based nearby at Bonegilla, Bandiana, Wirlinga and Ettamogah, so that army personnel and their equipment might be easily dispatched north or south in case of invasion. In the post-war years the Centre also provided a convenient locale from which to dispatch migrants to jobs all over Australia. The Commonwealth did not want to be seen to be favouring any one state in the way it distributed its labour resources.
Bonegilla was isolated
Bonegilla was tucked away on th southern shores of Lake Hume, 12km from Wodonga, over 300m from Melbourne and 600km from Sydney. The un-peopled spaces of Bonegilla were ideal for their original purpose of military training. Subsequently the river and the open paddocks provided an opportunity for newcomers to familiarise themselves with their new country. This was Australia - a hot summer sun in a huge sky, or cold winter nights in unlined and unheated huts. The physical isolation of Bonegilla and the nature of the accommodation provided may have strengthened the pressure on migrants to take up employment offers.
Arriving
Bonegilla was big
The Reception Centre had its own churches, banks, sporting fields, cinema, hospital, police station and railway platform. During the great influx of migrants in 1949 and 1950, officials estimated that Bonegilla could cope with up to 7,700 people and hold an additional 1,000 in tents, if need be. There would eventually be 832 huts on the 240ha site. Through the 1960s, officials estimated they could comfortably house 4,000 people. Most commonly, there were between 2,500 and 3,500 residents at any one time. Block 19 was one of 24 similarly sized constituted blocks.
Like the other blocks, Block 19 was fairly self-contained. It had about 24 buildings including its own kitchen and eating place, (called the 'mess') and ablutions (toilets, bathrooms and laundry). Buildings were moved from one block to another as needed. Block 19 usually accommodated about 350 people.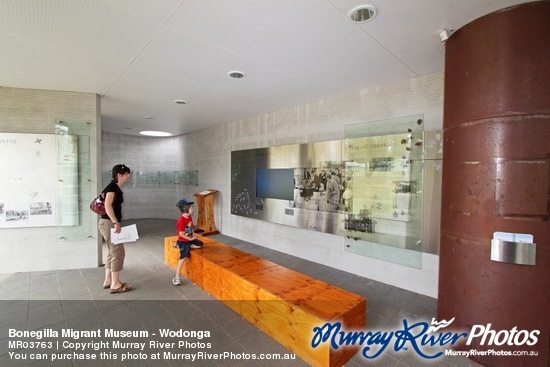 River-side setting
The local newspaper made much of the newcomers frolicking beside Lake Hume (then known as the Hume Weir), rather than investigating the mean building surrounds in which they lived. It seemed an appropriate welcome to place them in a local holiday spot. Photographs and memory pieces in the Bonegilla Collection show that many migrants did enjoy the river-side. They were usually those who became state and stayed at the Centre for more than the usual four weeks. Locals believed that Bonegilla was well placed to provide a 'firs view of Australia', and that Albury and Wodonga provided country town friendliness that might help migrants settle.
The buildings were mostly standard army-type huts, which were usually unlined and timber framed, with corrugated cladding and low-pitched, gabled roofs of either corrugate iron or asbestos cement. They commonly accommodated 20 people and had no internal partitions. Little was done to prepare the facilities for housing migrants in 1947, when the Centre opened. After 1953 there were attempts to soften the surrounds with trees and gardens. Long-term residents were encouraged to start and tend their own gardens. The costs associated with operating a centre so distant from a capital city were to lead to Bonegilla's closure in 1971.
Official perspectives
The government wanted to keep attracting migrants to Australia. It presented favourable images of the living and working conditions, though it was careful not to leave itself open to charges of misrepresentation. Some Dutch migrants, however, insisted that they had been given the wrong impression of the accommodation awaiting them. Departmental records indicate recruiting officers were told not to oversell the style of accommodation at Bonegilla. So, for example, British people were forewarned that conditions would be 'austere'.
However, the News and Information Bureau distributed photographs with suitably worded captions that helped to create a favourable impression of the Reception Centre.
Source: Bongelilla Migrant Experience

---


Tell your friends you found this at murrayriver.com.au!

Copyright Discover Murray 2022. This site or any portion of this site must not be reproduced, duplicated, copied, sold, resold, or otherwise exploited for any commercial purpose that is not expressly permitted by DISCOVER MURRAY.