Thanks for using Discover Murray River
The Bushranger "Mad" Dan Morgan
One of the most unpleasant bushrangers of Australia's past
Who was Dan Morgan?
One of the more infamous characters from the history of the Culcairn and the surrounding districts was Dan Morgan, one of the most unpleasant bushrangers of Australia's past. Morgan was about six feet tall, with a long black bushy beard.
Born in Sydney in 1833 of poor irish parents, he decided to leave Sydney and join the gold rush in 1853. However on the way he turned to a life of petty crime, from which he graduated to robbery, which earned him a 12 year sentence of hard labour. Following his release in 1860 as a more hardened criminal, he was to become a legend of the worst kind.
Morgan was an excellent bushman, and this enabled him to evade the police. His hideout 6 miles north of Walla Walla provided an 180 degree view of the surrounding district, and is now a lookout.
Even in his own time Morgan was known as "the most bloodthirsty of all highway robbers". He was shot near Wangaratta in 1865.
The Exploits of Dan Morgan
Acknowledged in his own time as one of the most bloodthirsty of highway robbers, there was much rejoicing when he was killed near Wangaratta.
Where did this son of convict parents born in 1833 start on his life of crime?
In 1853, he joined the gold rush prospecting in both Victoria and NSW, but did not do well in the frantic hunt for the quick return. He was initially known as 'The Sydney Native' when he began in petty crime.
In 1854 it is reported that he held up a shepherd near Castlemaine in Victoria. Emerging drunk from the bushes, he waved his pistol at four men around the campfire. He ransacked their hut and took everything he could carry away on their dray. Shepherds huts proved easy pray and were more than once the victim of Morgan's attacks.
This was the start of his career as a 'bushranger', although one that is little known despite its ferocity. There is not hint of the image of a 'champion' or 'gentleman' that accompanies the legends of the likes of Ned Kelly or Ben Hall.
Two weeks after his exploits in Castlemaine he was tracked by the police to East Charton 60 miles away, only to find out that Morgan had been there 10 days or more before. An Aboriginal tracker led the police to a nearby hut, where Morgan was arrested on 11 May, 1854. An unsuccessful attempt to escape along the road to Castlemaine resulted in injuries when his horse stumbled and he was dragged.
Not one to be happy confined, Morgan attempted to escape from Castlemaine goal while awaiting trial, without success. He was subsequently sentenced to 12 years hard labor, the first 2 in irons.
Morgan was initially imprisoned aboard the hulk the "President", in cells below the water line before being transferred to the 'Success' to work on the Williamstown breakwater. The conditions on these vessels were nothing short of barbaric, even by the standards of the times.
Morgan only served 6 years, and was conditionally released on 23 June, 1860 with the proviso that he remained in vicinity of the Ovens and Yackandandah police. On 19 July, 1860 Morgan was reported as being 'illegally at large'.
Morgan did not initially venture far, and earned a reputation as a pilferer and horse stealer by the name of 'Down the River Jack'. On 12 September 1860 he stole a horse an as shot in the arm before he escaped, cursing revenge on the men who had tracked an shot him; Evan Evans and Edmund Bond. While injured Morgan was befriended by an Aboriginal known as Billy.
A contemporary and possible some time cohort of bushrangers who are better known such as John Piesley, John Gilbert, Frank Gardiner and Ben Hall, Morgan appears to have been around Lambing Flat at the time of the rebellion there in September 1861. Morgan next turned up in Campbelltown following a brazen attack by Gardiner on a gold and mail coach at Eugowra in June 1852 and may well have been part of the attack.
'Mad' Dan Morgan developed his career during 1862-63 by holding up travellers around Wagga, and terrorised the Riverina district of New South Wales. He was probably insane and given to murderous rages.
He progressed to shooting a policeman without reason, and then began shooting unarmed people during his robberies. He shot anyone who stood against him, and then sometimes tried to nurse them back to health.
He was known to torture his prisoners, but it was his beastly act, on the terrified wife of a suspected police informant, that frightened the surrounding population. She was forced to sit upon the flames of the kitchen stove, and it was only when she was well alight that he doused her with water. He grew more reckless and brutal, but it was his ego which finally brought him down.
It was on 17 June 1863 that Morgan began his career as a highwayman with the bailing up of Mr Manson at Walla Walla. An unfortunate hawker, Brasch, happened upon the scene and was also relieved of clothing, power flasks and jewellery. Morgan was tracked by police to the Piney Range (Walbundrie) before being lost to the scrub.
In August 1863 Morgan stole horses and saddlery from a Mr Gilbank, and less than two weeks later they held up Mr Henry Baylis. Police Magistrate at Wagga on his way to Urana, but Morgan returned the purse and cheque upon being informed that he was a Police Magistrate. Four days later Baylis was joined by Police trackers, but they were unable to find Morgan. However 3 days later they caught u with Morgan and Billy, a gunfight ensued and Baylis was wounded. Morgan later shot a shepherd known as Haley, whom he believed had betrayed him.
On 31 August 1863 a reward of £200 was offered for Morgan. In November he bailed up an outstation at Bulgandra, and it was alleged that he molested a shepherd's wife.
On 19 June 1864 he 'visited' Round Hill Station, confronting Mrs Watson the wife of the Manager at 11 am in the morning, demanding food. On her husband's return, a gunfight broke out between Morgan's men and the station hands. Station employee John McLean was sent for help, but Morgan changed his mind, chased him and fatally wounded him.
John McLean's Grave
This grave is the only existing evidence of the most historic and tragic bushranger hold-ups in the history of Australia.
In June 1864 Dan Morgan called at the Round Hill Station and rounded up all the station hands and their wives. He herded them into the carpenters shop and ordered the manager, Sam Watson to bring rum from the cellar. After partaking of rum Morgan demanded fresh horses, stating he would return them on the next visit, when mounting one of his pistols discharged, Morgan assumed that he was fired upon.
He opened fire and wounded a neighbouring station and John Heriot in the leg, he then demanded that Watson stand still while he shot him dead, however Mrs. Watson stood in front of her husband to shield him and pleaded with Morgan to spare her husband for the sake of the children, moved by her bravery, Morgan ordered Watson to place his hands in the air, Morgan fired a shot which shattered Watson's hand.
Morgan realised his mistake, he ordered young station hand John McLean to fetch a doctor at Walla Walla Station.
Later suspecting that McLean would return with the 'traps' (police) Morgan gave chase and shot McLean in the back. Again realising his mistake, Morgan returned to Round Hill Station with the wounded McLean and stayed with him until he died.
Morgan had not long left when a party of police arrived in search of him.
Familiarise with the events and Morgan's state of mind they decided to give him away for that day, assuming that Morgan had only travelled a short distance and camped on the banks of the Billabong Creek.
The actual location of the grave is beneath the Kurrujong Tree in the depression to the right of the site, near the 'Round Hill' Woolshed (built 1868-69). The original Round Hill Homestead is beyond the Woolshed (built approx 1848) ad is still occupied.
The Victorian police had boasted that if Morgan crossed the Murray he would be captured within 48 hours.
The challenge was too great for Morgan and he crossed the river in April 1865. Within two days he had held up and robbed three properties, burned down haystacks and out buildings, and held up coaches on the Benalla Road. On April 8 Morgan held up his last property, Peechelba Station, near Wangaratta.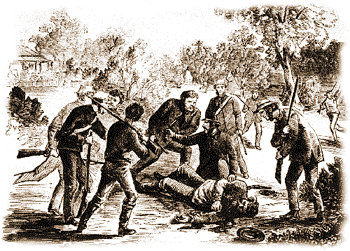 In one of his better moods he demanded that the occupants, the McPhersons, prepare a meal and provide him with entertainment. He kept the family in range of his gun. then he 'requested' Mrs McPherson to play the harmonium to him while he ate. As the baby, Christina, kept crying in the next room, he angrily told a maid to 'go out and keep that brat quiet'.
The maid did so, but having calmed the child, she climbed through the window, raced to an adjoining property, gave the alarm, came back through the window and walked into the main room as though nothing had happened.
Having had no sleep, Morgan left the house next morning to a welcoming party of some 40 armed police and volunteers. He was shot and later died at 2pm on April 9 1865. Dan Morgan is buried in the Wangaratta Cemetery.
The site of the graves of two of Morgan's local victims. John McLean and Sgt Smyth (who was shot west of Henty in 1864) are located in the Shire.
---
The story of Dan Morgan was made into a movie. "Mad Dog Morgan" that was filmed in the region in 1975, starring Dennis Hopper (Easy Rider) and Jack Thompson (Sunday Too Far Away, Man from Snowy River), David Gulpilil (Storm Boy) and Frank Thring (Bodyline).
Note: Video contains some violence and nudity. Parental guidence recommended
Filmmaker Philippe Mora directed Dennis Hopper as the bushranger Dan 'Mad Dog' Morgan during the actor's wilderness years, when his reputation and behaviour made many in Hollywood too nervous to employ him. Making the movie and managing Hopper was a Gonzo-esque adventure, but Mora still admires the actor for his genius.
Dennis Hopper recently said that acting in Mad Dog Morgan was one of his great life experiences. This from the man who directed Easy Rider at the age of 31. An act of cultural brilliance, it changed cinema and the film industry forever. more >>
For more information on the Morgan Country Trail contact Greater Hume Shire Visitor Information Centre at Holbrook | www.greaterhume.nsw.gov.au
---
Learn about Ned Kelly | How is this related to Banjo Paterson and Waltzing Matilda?
---


Tell your friends you found this at murrayriver.com.au!

Copyright Discover Murray 2022. This site or any portion of this site must not be reproduced, duplicated, copied, sold, resold, or otherwise exploited for any commercial purpose that is not expressly permitted by DISCOVER MURRAY.