Thanks for using Discover Murray River
Upper Murray River and Mt Kosciusko National Park
Three springs, bubbling forth from the flanks of Forest Hill, 1430 metres above sea level, and only 40 kilometres from Australia's highest mountain, Mount Kosciusko, mark the source of Australia's greatest river, the Murray. Here, in south-eastern New South Wales, it begins its long journey of over 2756 kilometres to Goolwa and the Southern Ocean in South Australia. Along the way it is joined by the waters of the Swampy Plain, Mitta Mitta, Ovens, Goulburn, Campaspe, Loddon, Murrumbidgee and Darling rivers.
This region, known as the High Country, is where legends have been made, stories and songs written, engineering feats designed and completed, and a new breed of cattle has been developed. The country has its own special grandeur. The climate ranges from hot summer days to blistering cold winter nights, so cold, as the story goes, that you have to put your words into the fire to warm them up before speaking. For more information on the Upper Murray contact the Corryong Visitor Information Centre.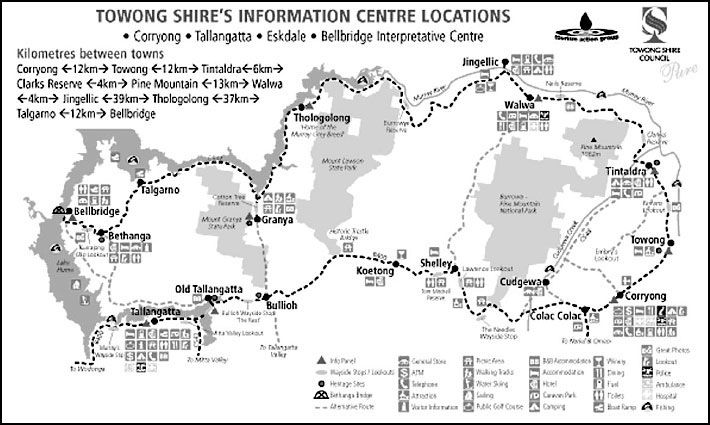 Kosciusko National Park
Within its boundaries the visitor can enjoy abseiling, bushwalking, camping, driving, caving, cycling, horse-riding, skiing, white-water rafting and wildlife and wildflower appreciation.
Kosciusko National Park occupies an area of 690 000 hectares (1.5 million acres) and includes Australia's highest plateaus and mountains. It stretches northwards some 150 km from the Victorian border to beyond the Blowering Reservoir, in New South Wales, and has an average width of 40 km. It includes much of the Snowy Mountains and all of New South Wales' major snowfields. Established in 1944 it obtained National Park status in 1967 and is a national asset of incalculable value.
The earliest visitors to this region were the Aborigines who came to feast, during the spring and summer months, on the plentiful Bogong moths. The hunters collected them in their thousands, roasted them over hot ashes and grew fat on the rich, sweet, nut-like flavour of the moths.
The first sighting of the snow country by whitemen was in 1824 by the explorers, Hume and Hovell, during their journey from Sydney to the Port Phillip District of Victoria. In the 1830s James Spencer leased the Excelsior Run which extended over the whole of the Kosciusko summit area. Here he grazed sheep and cattle during the summer months. Count Paul Strezelecki climbed and named Mount Kosciusko (2230m), after a fellow Polishman, in 1840.
Following closely on Strezelecki's heels were graziers from the Monaro district of south-eastern New South Wales, who mustered their cattle to the high country in search of summer pasture. In the 1850s German-born Ferdinand von Müeller, Victorian Government Botanist, explored and collected specimens in the region.
The national park is the source of the Murray, Murrumbidgee and Snowy rivers. Much of the country is under snow for 5 to 6 months of the year from June to October, consequently the area has within its boundaries Australia's premier ski fields and has developed as a major winter and summer tourist attraction.
The park includes a variety of landscapes, from steep, forested ridges, to bare granite outcrops. Three Ice Ages have sculptured Kosciusko's summit leaving behind cirques, glacial lakes and ice-carved rocks. Treeless alpine vegetation of hummocky plants, heaths, lichens, mosses and algaes survive above 1900m, while lower down the snow-gum predominates. These trees are characteristically stunted and gnarled and the leaves are leathery and thick to prevent excessive loss of moisture in the strong winds.

Bird life is prolific at various times during the year. Summer draws a variety which includes the black-shouldered kite, brown goshawk, wedge-tailed eagle, grey goshawk, peregrine falcon, sulphur-crested cockatoo, crimson rosella, white-throated needletail, eastern yellow robin, eastern whipbird and eastern spinebill.
Within the park is one of Australia's most-ingenious and important civil engineering projects, the Snowy Mountains Scheme. This undertaking diverts the waters of the south-flowing Snowy River, through the mountains westward to the headwaters of the Murray and Murrumbidgee rivers. At the same time hydro-electricity is generated for south-eastern Australian consumption.
A daily fee is charged for all vehicles entering the Kosciusko National Park, whether just driving through on a day's outing or camping. Annual permits are also available. Permits are obtainable at the National Parks Information Centre, corner of Scott Street and Mitchell Drive, Khancoban. Open daily 8.30am-1pm, 2-4pm.

The Alpine Way was constructed in 1956 by the Snowy Mountains Authority and now services the southern section of the Kosciusko National Park. Before the road was pushed through there was no road access to the upper Murray.
Part of the road is unsealed and subject to closure during winter. It begins at Jindabyne, follows Wollindibby Creek, then the Crackenback River upstream to Thredbo Village. From here the road proceeds through Dead Horse Gap, so named following the discovery there of 17 brumby skeletons. The gap is also the natural divide between the Murray and Snowy river systems. The Alpine Way continues to Pilot Lookout passing very close to the Murray River and Victoria near Tom Groggin, before heading northwards to Geehi, Geehi Walls and Khancoban.
The road does not carry much traffic and has no shops or service stations between Khancoban and Thredbo. The towing of trailers or caravans is not recommended on the Alpine Way between Tom Groggin and Dead Horse Gap. Chains must be carried in winter.

Access by foot to Mount Cobberras is via the Australian Alps Walking Track at Dead Horse Gap. The track leads to Big Boggy, The Cascades, Tin Mine Falls, Tin Mine, Mount Pilot, Cowombat Flat, the Murray River, Mount Cobberras No 2, Middle Peak and Mount Cobberras No 1. The track continues towards Mount Misery and finally onto Walhalla in Victoria. For detailed descriptions see Alpine Walking Track by John Siseman.
Pilot Lookout (1832m), on the Alpine Way, provides views of the Snowy Mountains including Mount Pilot and The Cobberras, a huge mountain mass of many jagged peaks. The Pilot (1830m) has the double peak and The Cobberras, further to the south, comprises Mount Cobberras No 2 (1725m), Moscow Peak (1770m) and Mount Cobberras No 1 (1825m). The New South Wales and Victorian border runs between the two mountains.

Across the river in Victoria and adjoining the Tom Groggin Station is the Cobberras–Tingaringy Unit of The Alpine National Park. This is a most important park for the conservation and protection of significant and rare animals and plant species as well as geological formations and vegetation types. Access is limited and some areas are proclaimed Wilderness Areas. Access to these wilderness areas is by foot or canoe only, as vehicles, trail and mountain bikes and horse-riding are not permitted. The Indi Wilderness area is about 5 km south of the Alpine Way at Tom Groggin, Mount Cobberras Wilderness Area is about 35 km south of Tom Groggin and Tingaringy is some 55 km south-east of Tom Groggin. Access to the Mount Cobberras unit is from Victoria via the Australian Alps Walking Track, off Black Mountain Road between Benambra and McKillops Bridge. The Australian Alps Walking Track is for experienced bushwalkers only. There are no facilities.

Tom Groggin is the highest elevation on the Murray River readily accessible by car, and the starting point for the Discover Murray River Trail. Tom Groggin derives from the Aboriginal 'tom-a-roggin', the name of a water spider inhabiting the area. The squatters run, Tom Groggin, located in Victoria was first occupied in 1855. Later, in 1880, it was taken up by John Pierce Snr.
One of Pierce's station managers was a stockman named Riley, who is acknowledged as the true Man from Snowy River. 'Banjo' Patterson was resting in Riley's hut on the station when he learned first hand, of Riley's ride down Leatherbarrel Mountain while trying to capture a run-away colt from Bringenbrong Station. The story of the ride stirred Patterson, who put it to verse. Since then has it been immortalised in word and film.
Camping is permitted at the informal Tom Groggin camping area (in New South Wales), but it has few facilities. A track provides access to the Murray and a picnic area with fireplaces. Brown and rainbow trout are in the Murray and emus cross the road at dusk.

Murray Gates Some 8 km north from Tom Groggin a 4WD track joins the Alpine Way from the left, and leads part way to the 'Murray Gates'. Approximately 3 hours paddling time downstream from Tom Groggin, this is a favoured white-water canoeing and rafting location but only for very experienced canoeists. The 'Murray Gates' is a section of gorge, some 2 km long, with a series of grade 3 to 5 rapids separated by deep pools. The junction of Hermit Creek, which flows into the Murray from the west, marks the end of 'The Gates'. Colemans Bend is only a short distance further downstream, here the river widens and flattens out enroute to Bringenbrong, 3 hours further paddling downstream. Access to Colemans Bend is on the Victorian side of the Murray via Towong Upper.

Geehi Rest Area. A mountain hut, fireplaces, picnic area, toilets and information boards are located within the area. The Alpine Way crosses the Swampy Plain River here.

At Geehi Junction (5 km from Geehi) there is a turn-off to the right to Olsen's Lookout, which after approxately 10 km of winding gravel road provides spectacular views of the sheer rock faces of the western side of the mountains as they descend into Geehi Gorge. Geehi Dam is a further 15 km along a narrow, rough 4WD track. Walking tracks lead to Geehi Dam and Sullivan Ridge and are for experienced walkers only.

Geehi Walls and behind them, the Indi Range, are to be seen to the east. The original route to Tom Groggin Station was over the Geehi Walls which was very steep in parts.

Scammel's Spur Lookout offers magnificent views over the main range of the Snowy Mountains including Mount Townsend. At 2210 m Mount Townsend is the second highest mountain in Australia. Mount Kosciusko hides behind the second peak on the right. Picnic and toilet facilities.

Murray 1 Power Station, in the Snowy-Murray section of the scheme, is the second largest of the seven hydro stations built. Turn off the Alpine Way at the signpost. Visitor viewing gallery provided. Open daily 9am-5pm. Guided tours 10, 11am, noon, 1 and 2pm. This, along with Tumut 2 and Tumut 3 power stations, are open to the public. Barbecue facilities.

Murray 2 Power Station Turn off the Alpine Way towards the Khancoban Pondage. Viewing point only.
Khancoban
A squatters outstation known as Swampy Plains, downstream from the present township, was established in the early 1840s. Khancoban was constructed for the workers employed on the massive Snowy Mountains Scheme. The township overlooks Khancoban Lake and is the western gatewayto the Kosciusko National Park and the Snowy Mountains snowfields.
Bringenbrong is sited near the junction of the Swampy Plain and Murray rivers. The run was first leased in 1848 by William and Richard Guise. It had a series of owners through the 1850s and 1860s, was made freehold in 1875 and taken up by Thomas Mitchell. A B 'Banjo' Patterson was a frequent visitor. The original homestead buildings are 1.5 km east of the bridge. Private property, no access.
Northern route via Towong-Albury–Wodonga
Tintaldra - 150 km east of Albury-Wodonga, was first settled in 1837 as a cattle run. A river punt operated here until 1892 and it served as a customs collection point until 1901. The river provides excellent trout and Murray cod fishing. The tourist information centre is housed in an 1864 National Trust classified building which has been faithfully restored. Open daily 9am-5pm.

Walwa - The area around Walwa offers a multitude of activities ranging from canoeing, white-water rafting, bush-walking, horse-riding, cycling, fishing and 4 wheel driving. Situated in the foothills it is famous as the birth place of the Murray Grey, a breed of cattle developed from the Black Angus breed.
Walwa Homestead (c.1848) Corryong Road, Walwa is a single-storey homestead constructed of hand-hewn timber, with a low, hipped-gable corrugated iron roof and encircling verandahs. French windows open onto the verandah from most rooms. Private residence.

Burrowa-Pine Mountain National Park - 7 km from Walwa via Murray Valley Highway, 3.5 km from Walwa via Cudgewa North–Walwa Road. The park covers an area of 18 400 hectares and is of two parts joined by a narrow link. Burrowa Mountain is over 1300 m high consisting of Jemba ryholite which remained after the surrounding rock was weathered away. Pine Mountain is a 1062 m high, vegetation covered, granite monolith 1.5 times larger than Uluru (Ayers Rock). The surfaces of both mountains are subject to extreme temperature changes causing the rock surface to break up, creating large scree slopes of rock debris. The surrounding country supports a wide range of flora and fauna. Some of the species of plants are rare, while others are still to be identified. The animals include kangaroos, koalas, wallabies and wombats as well as numerous greater gliders, the largest of the gliding possums. Over 180 species of birds have been recorded.
Within the Burrowa Mountain section of the park are the Cudgewa Bluff Falls, which are best viewed after heavy rain, although water still flows during mild summers.
Camping areas are at Blue Gum Camp, Bluff Creek Picnic Area and Hinces Creek Camp. All areas are on the south-eastern portion of the park and are accessible from Corryong via Cudgewa North Walwa Road and Falls Road.
Walking tracks to Cudgewa Bluff Falls, Ross Lookout, Black Mountain and Burrowa Mountain extend from the Blue Gum Camp. A walking track from Sandy Creek Road, via Walwa, leads to the summit of Pine Mountain. Leaflets available at Bluff Creek picnic ground and Bluff Falls.

Mount Porcupine Area - In an area of 300 hectares located near Mount Porcupine, 20 km due west of Walwa, south of the Murray Valley Highway, Aboriginal art locations are found. Paintings include figures, emu's footprints, large and small birds' footprints and human hands depicted in red ochre on protected rock faces. These drawings are among the few recorded in north-eastern Victoria.

Mount Lawson State Park of 13,150 hectares is accessed from Bungil via Running Creek Road. Mount Lawson is 1 020 m and surrounded by granites. A wide range of bird life, as well as rare plants such as the kurrajong and crimson grevillea are found. Wildflowers and creepers provide a spectacular display during spring. Access to Mount Lawson lookout and picnic area is via Mount Lawson Road off Burrowye Road. Another picnic area is located on Keotong Creek just off the Keotong Creek Track. Waterfalls are found on Flaggy Creek. There are no facilities.

Mount Granya (905 m) is located between the Murray River and the Tallangatta arm of Lake Hume. Wedge-tailed eagles, rosellas and cockatoos nest within the park and eastern grey kangaroos and wombats are also present. A lookout fire-tower and picnic area are sited at the summit. Access is via the 2WD Mount Granya Road, off Granya Road, south of Granya. Small waterfalls are located near Cottontree Creek off Webb's Lane about 2 km from Granya. A short walking track leads to the falls. Numerous 4WD tracks, such as Bridle, Jurgies, Wises, Star and Pub tracks are located throughout the area. Picnic, lookout and walking track facilities only.

Bethanga Bridge Constructed in 1930 this metal arch-girder bridge has nine 270 foot spans. The original course of the Murray is below the fifth span from the southern shore. On the northern shore of Lake Hume adjacent to the bridge is a large picnic and beach area. Among shady trees are picnic tables and barbecues. A boat launch ramp is provided.
Southern route from Corryong to Albury–Wodonga
Corryong
The Shelley family first took up land in this granite country in 1837, and later in 1840, Count Strezelecki passed through the valley en route to Gippsland. The area was opened to land selection in the 1860-70s, Corryong was surveyed in 1879 and the first land sale took place in 1882. It is part of Victoria that can still be called 'mountain cattle country' as over 10 000 head of cattle pass through the saleyards annually. Close to the Murray River and the Australian Alps, Corryong offers the visitor tranquil holiday settings, excellent fishing, bush-walking, hang-gliding, skiing, canoeing and rafting as well as the history of mountain men and their country.

Man from Snowy River Museum, 103 Hanson Street, Corryong. An excellent collection of local memorabilia is housed at the museum, along with a collection of snow skis, considered to be the oldest in Australia. A miniature replica of Jack Riley's hut, Jarvis Homestead (a two-bedroom cottage from Cudgewa) and tunnelling equipment from the Snowy Mountains Scheme is also on display. The ski collection was on display at the World Expo, New Orleans, USA in 1984 as part of the Australian exhibition. Open 7 days a week 10am-noon, 2-4pm. Other times by arrangement. Admission charged.

Jack Riley's Grave, Old Cemetery, Corryong. Known as 'The Man From Snowy River', Jack Riley was the inspiration for A B 'Banjo' Patterson's famous epic poem. Riley was station manager of Tom Groggin, a pastoral run of 8000 ha on the upper Murray when he joined a group of stockmen in search of a colt that had escaped from Bringenbrong Station. The colt was located on a high ridge of Leatherhead Mountain and when the stockmen closed in, the stallion broke away and galloped down the mountain with Riley, the only rider, in pursuit. Riley's horse half galloped, half slid down the slope which was covered with low scrub, wombat holes and loose rock. Riley caught the colt and led it to a stockyard, while he waited for the other stockmen to catch up. It is recorded as one of Australia's greatest feats of horsemanship. The poem captures the spirit of the mountain horsemen and the country they lived in. Riley narrated his story to A B 'Banjo' Patterson while they were in a stockman's hut at Tom Groggin.
Riley, arrived from Ireland in 1851, and worked firstly as a tailor then as stockman, brumby hunter, horse breaker and station manager. He spent much of his life in the bush and was carried down from Tom Groggin in ill health on 14 July 1914, and died that night.
Riley's Ride, an annual horse-riding event, from Tom Groggin to Corryong follows the trail of Riley's last ride on 14 July. It proceeds along the Murray, across the side of Hermit Mountain, through the wild foothills country and into Corryong.

Hunters Plains Homestead and Stables (1870), Parish Lane, Corryong. Constructed in locally-hewn stone (1870) and brick (1922) it is a simple rectanglar building with encircling verandahs and low gabled roof. View only from the road as this is private property.

Access to Burrowa-Pine Mountain National Park and Bluff Falls is via Briggs Gap Road from Corryong, right into Cudgewa-Tintaldra Road, left into Cudgewa North-Walwa Road and then left onto Falls Road. The 31km route is signposted.
Corryong High Country Festival
An annual celebration of the spirit of the Australian mountains is held in late March. Over the five day period it includes: Riley's Ride, High Country Festival, Drover's Dance, Stockman's Muster and novelty events. Admission to various activities is charged.

Towong Gap situated on the Murray Valley Highway 12 km north-east of Corryong, is a pleasant stopping place with a scenic lookout providing views towards the western slopes of Mount Townsend and Mount Kosciusko. It is in this area that Arthur Streeton completed his famous painting, Mt Kosciusko, in 1929.
Playles Hill Lookout, Back Thowgal Road, Corryong. Pleasant views over Corryong township. Picnic facilities.

Farren's Lookout Corryong–Tintaldra Road. It provides views over the river flats and towards the Kosciusko National Park. Picnic facilities.
Just upstream of Farren's lookout, on the Murray River is a prototype of a Tyson Turbine, a turbine that generates electricity and pumps water, using the river-flow as the power source. This turbine is an invention of an Australian, Warren Tyson of Wagga Wagga in New South Wales. In 1982 he developed his first concept of harnessing water as a power source with his 'water-wheel' designs. The design uses the principle of an underwater screw-shaped, large curved-bladed turbine mounted on a right-angled gear box supported by pontoons. The output shaft from the gear box transmits the rotational power to the large pulley mounted on the frame above water level. The pulley in turn drives the electric generator and water pump. All power generated supplies and charges batteries from which DC power can be drawn. AC power can be used at 110 or 240V from an inventer run by battery power.
The turbine provides the cheapest and most environentally-acceptable pumping and electric generating system available today. The turbines are manufactured under licence by Horwood Bagshaw of Mannum, South Australia.

Embery's Lookout, Mount Mittamatite, approx 32 km from Corryong on Ranch Road, north of Corryong, provides views over Corryong township and Kosciusko National Park. Ranch Road (gravel and dirt surface) follows the ridge through private property and bushland to the summit of Mount Mittamatite. Embery's lookout is signposted with a short walk to the lookout and hang-gliding platform. Picnic and barbecue facilities.

Lawrence's Lookout provides a panorama of Victorian Alps, Koetong plantation operations and the Snowy Mountains. Located off the Corryong–Tallangatta Road, 41 km west of Corryong.
Shelley
Situated on the Tallangatta-Corryong Road the Shelley Forest Camp, run by the Department of Natural Resources and Environment, is available for short-term hire to school and other approved groups. Bookings open 12 months in advance. Contact the Wodonga office of the NRE or (060) 72 7531.

Koetong Forest The plantation, predominantly of Pinus radiata, is named after the Koetong Plateau and the first plantings were in 1962. Self-drive scenic routes, marked with gold and brown signs, are located within the forest. All open fires and barbecues are banned on days of Total Fire Ban.
Tallangatta
The township on the present site was officially declared in 1956, as it replaced an earlier township, 7km to the east, flooded by the waters of the enlarged Lake Hume. It is now the service centre for the surrounding farming district as well as being an all-season holiday location and a convenient stopping place for people moving between north-eastern Victoria, the snowfields and the Snowy Mountains.

Tallangatta Beach, Lake Hume. This area is a man-made beach on the shore of the lake and provides picnic and barbecue facilities and a boat ramp. It is suitable for swimming, boating, waterskiing and fishing.

Bonegilla was once the site of the largest reception camp for new arrivals of displaced persons from war-torn Europe between 1948 and 1971. In the years 1948–51 it helped over 170 000 people establish themselves. Some found the transition hard and lonely, others exciting, but for most it was a new start. Australia is the richer as it now the most culturally diverse nation on earth. (Albury Regional Museum has a permanent exhibition 'Bonegilla–The Migrant Experience')
Lake Hume Construction of the Hume Dam began in 1919, and the original structure was completed in 1936, forming a storage of 1 522 gigalitres. It was increased to its present capacity of 3 038 gigalitres in 1961. The Hume Dam comprises a concrete spillway and earthen embankments. A 50 megawatt hydro-power station is attached to the dam and generates power for Victoria and New South Wales. The reservoir is the main operating storage on the Murray River. As well as providing flood control and irrigation services, Lake Hume has developed as a popular recreational area. Main activities are water-skiing, sailing, swimming and fishing. Caution should be exercised when using unpowered craft on the lake as bad weather can whip up waves very quickly and conditions become unsafe for small sailing craft, canoes and the like.

RAAOC Museum Murray Valley Highway, 5 km east of Wodonga. The Royal Australian Army Ordinance Corps established the collection in 1972. Displays are of weapons, explosives, uniforms and medals as well as Australian military history. Barbecue and picnic facilities are provided.
For more information on the Upper Murray contact the Corryong Visitor Information Centre
---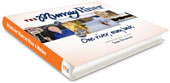 Enjoy 172 pages of pure Murray River & Mallee beauty. A stunning, unique look into Australia's most important river. A great read for yourself and perfect present for anyone who loves Australia.
Click here for more information and purchase.

---


Tell your friends you found this at murrayriver.com.au!

Copyright Discover Murray 2016. This site or any portion of this site must not be reproduced, duplicated, copied, sold, resold, or otherwise exploited for any commercial purpose that is not expressly permitted by DISCOVER MURRAY.