Thanks for using Discover Murray River
The former home of the Mildura irrigation settlement pioneers

The former home of W.B. Chaffey
---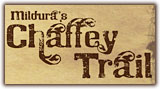 Rio Vista was opened on Mildura Art Gallery by Sir Dallas Brooks in May 1956. The Queen Ann Style house was built for William Benjamin Chaffey in 1889 and occupied by the Chaffey family from 1891 until 1950.
George Chaffey and his brother William Benjamin arrived in Mildura in 1886 where they established the first irrigation scheme in Australia. Following great success with irrigation in California, the Chaffey brothers ,originally from Canada, had been approached by Victorian Premier Alfred Deakin who was under pressure to open up more land for farming and settlement.
The Chaffey families established themselves at the Old Mildura Homestead. Follow a success of early irrigation development work William began construction of Rio Vista in 1889. The Spanish name Rio Vista (River View) reflects the Californian influences found in the house.
In 1889 William's wife Hattie tragically died of pneumonia shortly after the birth of their sixth child. The baby died soon afterwards and was buried, with his mother, close to the homestead. Whilst William continued on his many business trips to California, the rest of the family moved into the then completed Rio Vista, with William's mother and sister left in charge of the children. On William's last visit to America, he married his first wife's niece Hattie and brought her back to live at Rio Vista. Six more children were subsequently born to William and his second wife Hattie.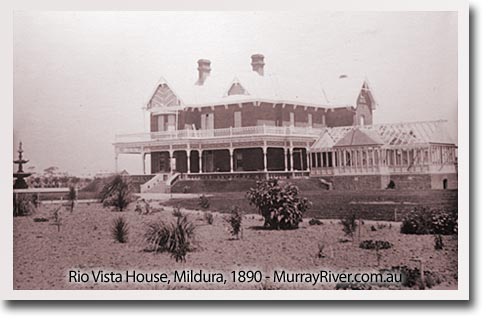 Although the Mildura scheme was a remarkable achievement, the Chaffey brothers encountered financial difficulties and never realised the dream of prosperity that Rio Vista symbolised. George Chaffey returned to America in 1897. William died in 1926 and Hattie remained living in the house for twenty-four years until her death in 1950.
In 1950 Rio Vista was purchased for £18,000 and converted into an art gallery. Back in 1944 a valuable art collection had been bequeathed to the Mildura City Council by Senator R.D. Elliott, owner of the Elliott Newspaper Group. The bequest was on the condition that a suitable place be found to house the collection. Several rooms in Rio Vista including the conservatory were converted for display purposes and many of the original surfaces were painted over. Conversion into the Mildura Art Gallery saved the house from probable demolition and subdivision of the surrounding grounds. In more recent times the focus has been narrowed to exploring the history of the Chaffey family and to the restoration of Rio Vista to the splendour of its earlier years.
Sir Henry Bolte opened the Mildura Regional Arts Centre on 22 November 1966. Additional works bequeathed by Mrs Hilda Elliott in 1970, supplemented the initial Elliott collection along with many works from other sources. A continuous program of exhibitions by Murray Darling artists and touring exhibitions complimenting chosen works from the permanent collection provides interest for all.
The Rio Vista Architects
In April 1889, tenders were called for the erection of the villa residence in Mildura by the architectural firm of Sharland and Call. This partnership were responsible for the design of many buildings, practising both alone and in partnership. Their offices in those earlier years were known as:
Clarke & Sharland & Co. - 1888
Sharland & Call - 1888 to 1889
E.C. Sharland - 1889 to 1890
Sharland and Edmunds - 1890 to 1891
D.T. Edmunds - 1890 to 1895
Sharland was among the first seven settlers in Mildura and by May 1888, was a partner in Clark & Sharland and Co. Edmunds and his younger brother Arthur, who was an engineer, were invited by Chaffey to come to Mildura, Dan to work as a builder and Arthur to assist in the installation of the pumping plant. Edmunds first advertised for work as an architect and quantity surveyor in August 1888. Sharland built Miss. Murray's Boarding House and the National Bank, both of timber and two of the earliest buildings in the buildings in the settlement.
Other buildings of note were Chaffey Bros. Offices and the town pumping house in brick and Bowring and Jacka's building in corrugated iron. Although Sharland was the original designer of both the Coffee Palace and Rio Vista. Edmunds was involved with both buildings, designed considerable additions to the former and supervising completion of the latter. Together, in 1890-91 they designed Mildura's first hospital, known as the Cottage Hospital. they also collaborated on the design and building of the Coffee Palace, although their first team effort took place when they designed the winning design of the Chaffey Agricultural College in 1888. Edmunds designed many buildings (not many seem to have survived) including the pumping houses which were substantial buildings and fine examples, only relics of which remain today.
The two men were the most prolific of early Mildura's architects, enjoying a close working relationship with the Chaffey brothers. Although Sharland was responsible for the design of Rio Vista, he would have been strongly influenced by W.B. Chaffey.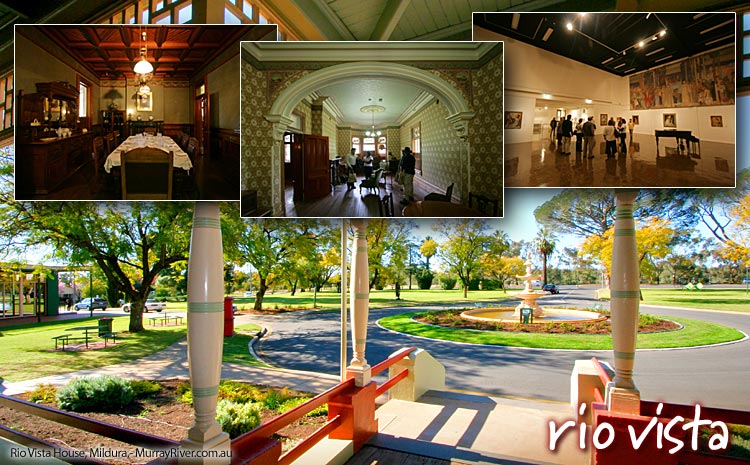 The Rio Vista Gardens
William Glasson, of Hughan & Glasson, is attributed with the layout of Rio Vista's garden. He received his training in his father's garden near Geelong (he was also a successful jeweller and optician in Ballarat, and later at Mildura). As well as the garden of Rio Vista, Glasson was also attributed with the layout of George Chaffey's home in Renmark, Olivewood, "his hallmark having been placed on all the best planed and planted gardens in the Mildura settlement". Native Murray Pine, Norfolk Island and Canary Island pines, jacarandas and date palms featured among the well designed, symmetrical layout of the buffalo grass lawns. Flowering shrubs and formal garden bed flourished under the salubrious touch of irrigation. It was even reported that "stately peacocks roamed where once the carrion crow croaked...".
So large was the expanse of lawns they were moved with a horse-drawn mower, and in later years the buffalo grass was ploughed up and citrus grown, putting the garden to more practical use, no doubt for economic reasons. Sweet oranges were planted but proved too much temptation for the local youth so they were removed and replaced with Sevilles which were more suited to marmalade making. The date palms flourished but grew too tall and the dates did not ripen well. The palms, scores of which had been planted around the district, also harboured nests for nuisance birds which decimated the fruit trees and vines.
At the rear of the house was a vegetable garden, tended by an old Chinese gardener. He provided Rio Vista with vegetables in payment for rental of the land and he sold the rest to the locals. On moonlit nights he moved up and down the rows on a sort of half-running gait, watering the plants from buckets balanced on the bamboo harness across his shoulders, chanting to himself Chinese prayers for good crops. Little did he know he was being spied upon by the children from the house, for he kept his eyes on the ground as he worked. The children took great delight in teasing him and he was so king that he ignored the youngsters as they pinched the carrots and radishes from under his nose. A row of olive trees at the back of the house proved a great success, with bountiful harvests; the fruits providing the finest olive oil which was manufactured in a tumbled down shed nearby.
The Rio Vista Builders
In May, 1889, John Williams successfully tendered for the contract to build W.B. Chaffey's villa residence. Brother to Henry Williams, (Mildura's first storekeeper and prominent citizen) he began work on Rio Vista in June. Williams was born in Cornwall, and was an established builder in Adelaide prior to arriving in Mildura in September, 1888. He executed the brickwork for Rio Vista, the pumping stations, his brother's store, two thirds of the State School, in conjunction with many other good workmen, such as Mr. Wells, Alf Brown, A. Monteith, WM. Greystone. He was a staunch Congregationalist and became Shire President in 1893-1894.
Mr. Edward Neale Wells - Bricklayer
Mr. Wells was borne in Maidstone, Kent, England in 1864, the son of a bricklayer. He migrated to Australia in 1885 where he worked in Melbourne for two years, coming to Mildura in 1887, at the beginning of settlement. He married Phoebe Davis in 1890 and lived here the rest of his life. He was responsible for the brickwork of Rio Vista, Town Hall, Psyche pumps, Mildura Central School and many other early buildings and homes. The red bricks used in Rio Vista were made at the Chaffey brothers own brickworks which they had established in 1888 on the riverbank under the management of J.C. Bennett. The 1889 floods however, inundated the works and the proprietors were forced to seek out a new site about a mile upstream from Risby's saw mill. The new brickworks produced 20,000 bricks a day relieving the shortage of bricks in the settlement.
Chapman & Sherring - Carpenters
Not a lot is known about this partnership at this time, except that J.H.A. Sherring died in Merbein around 1957, aged 93. Native Murray Pine from surrounding sand hills and Red Gum from the banks of the Murray River were felled and hewn at Risby's local sawmills. Jarrah and cedar for the floors and doors were imported by Risby and arrived by paddle steamer. In 1890 the Chaffeys established a second mill and in contrast to earlier actions of encouraging local industries, in direction competition of Risby's saw mill. It is felt that he did this as there was little local expertise.
Mr. Kells - Cabinetmaker
According to The Cultivator, Mr Kells received his training in Canada and the United States. The newspaper reported: "...what he hasn't learned about woodworking machines is not worth looking at". He arrived in Mildura in January 1891 to take charge of Chaffey's Planing Mills and Joinery Shop managed by W.J. Waddingham near the paddle steamer landing. Mr. Kells' expertise in the execution of the fine joinery work in Rio Vista makes a noteworthy contribution to the character of the home and he was responsible for all of the moulding work with Risby supplying only the moulding timer.
Learn more about:

Towns Close By: Buronga, Irymple, Wentworth, Dareton, Red Cliffs, Trentham Cliffs, Cullulleraine, Gol Gol, Renmark, Robinvale, Merbein, Nangiloc, Ouyen, Swan Hill, Hattah, Meringur, Werrimull, Euston, Balranald
---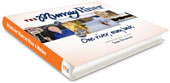 Enjoy 172 pages of pure Murray River & Mallee beauty. A stunning, unique look into Australia's most important river. A great read for yourself and perfect present for anyone who loves Australia.
Click here for more information and purchase.

---


Tell your friends you found this at murrayriver.com.au!

Copyright Discover Murray 2013. This site or any portion of this site must not be reproduced, duplicated, copied, sold, resold, or otherwise exploited for any commercial purpose that is not expressly permitted by DISCOVER MURRAY.