Thanks for using Discover Murray River
Paddle Steamer Marion, PS Marion, Mannum, South Australia

P.S. Marion
Mannum, South Australia
The Restored P.S. Marion Experience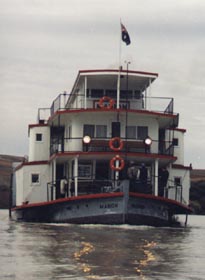 The Paddle Steamer Marion is unique, she is the only vessel of her type left in the world today, and she belongs to the community of Mannum, and in turn to the people of South Australia.
Her restoration now complete, Marion is capable of surviving for another hundred years. We say another 100 years because this year Marion celebrates her centenary. What an achievement.
Six years ago and many many tens of thousands of voluntary hours of labour later, estimated to be in excess of $500,000 in value, who would have believed that this icon of Australian River history would be back on the Murray River as a passenger carrying vessel, able to accommodate 30 people overnight, carry 100 cruise passengers, structurally sound and in full survey.
By design and deliberate intent Marion will not be overexposed nor will she be overworked.
The Mannum Dock Museum Board has been entrusted with the task of operating Marion in such a way that she will be able to fund her own maintenance, which is expensive, without compromising the essence of "The Conservation Plan" that dictates Marion should still be operating in 100 years time for the benefit and enjoyment of future generations.
The chance travel on Marion should be considered as an Experience to be remembered and revered; not just a boat trip on the River.
Unlike most boats available for such excursions, Marion is indeed very different.
Prior to cruising, usually 24 hours beforehand, the work begins preparing her to "steam up". The wood for the boiler needs to be collected, cut and stowed aboard, the fire lit and steam generated in plenty of time to ensure proper performance. It's not just a matter of hitting a starter switch and getting instant response from a modern diesel motor or two, this is a labour intensive program and this is the legacy of what Marion represents.
Marion is exactly what she is intended to be. A faithfully restored original piece of Australian history, a national treasure to be treated with the care she richly deserves and to be shared by all.
Overnight guests are advised that there are no ensuite facilities or air-conditioning on board. The Conservation Plan, which is very stringent, stipulated and monitored by The National Trust, does not permit the installation of these modern facilities (health regulation requirements in the galley excluded). This is part of the nostalgia of the Marion experience.
Although Marion is run on 100% voluntary labour the associated running costs are quite horrific. In the event that extensive repair is required, it is imperative that there be sufficient funds available to carry out this work. The project is not supported by external funding and Marion must pay her own way in regards to repairs and maintenance. For example major boiler repairs can cost almost $100,000.
Please help us to retain the historical integrity of Marion and in so doing accept that the charges involved to cruise on Marion include the privileges of enjoying and sharing the mystique of a "time warp" journey visiting a bygone era.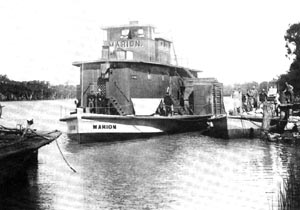 Early 1900's. Marion at Wentworth
P.S. Marion Details
Registration
Registered No 112,509. First registered in Sydney in 1900 - No 46/1900. Registration transferred to Adelaide 1928 - No 4/1928.
Length - 107' 11"
Beam - 22' 7"
Depth of Hull - 5' 3"
Engines
Common non-condensing, semi-portable type, 2 cylinders each 11" by 16" stroke, spur gear drive, NHP 20, IHP 120, manufactured by Marshall and Sons, Gainsborough in 1900.
Boiler
Steel, 120lbs. PSI manufactured by Marshall and Sons, Gainsborough.
Tonnage
Underdeck 104.49 tons, Deckhouses 52.82 tons, Gross 157.31 tons.
Engine and crew space 58.2 tons, Nett 99.11 tons.
Height
From waterline to top of funnel 30' (funnel constructed for lowering).
Wood Capacity
Steering
Direct by chains from the steering wheel on the bridge to the rudder.
P.S. Marion History
One of the first paddle steamers to run cruises on the Murray River, the PS Marion is now the original wood-fired paddle steamer, with overnight accommodation, still operating.
Marion's life has been full of changes.
In 1896, Milang shipbuilder A.H. Landseer was commissioned to build a steamer by Mr George Swan Fowler, a prominent Adelaide business man. It would appear that Mr Fowler had intended to use the steamer as both a work boat and also a pleasure craft. Unfortunately Mr Fowler died soon after building began, and his trustees decided that the hull should be completed and offered for sale as a barge. It was named Marion and first floated in February 1897.
William Bowring kept a store in Wentworth and also traded up and down the Darling, selling goods from a paddle steamer. In early 1900 W. Bowring and Co. bought the Marion after his previous steamer had caught fire and burnt to the waterline. The barge was towed to Echuca, where Bowring built a superstructure so it could work as a store and Marion entered her working life as a hawking steamer. Bowring imported her engine, which was built by Marshall and Sons of Gainsborough, England in 1900. Marion is still powered by its original engine.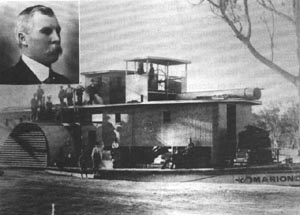 Sept. / Oct. 1900. The first superstructure being fitted
at Echuca under the supervision of Mr. C. Earnshaw.
Inset: William Bowring.
PS Marion left Echuca as a full independent working steamer in October 1900 and returned to Wentworth. From here she worked the Darling trade, taking supplies to settlements and stations along the river.
In 1908, the Marion was sold to Ben Chaffey of Renmark, who stripped off her store buildings and rebuilt her with accommodation to carry eight passengers, the captain and crew as well as carry cargo. Chaffey also had two barges specially built for her to tow.
Over the years, Marion went through many changes of ownership. Her shape and function also changed many times as she evolved from cargo with passengers to passengers with cargo and eventually to a passenger boat alone. In her final working guise Marion had accommodation spread over three decks, lounges on the top and middle decks with the dining room on the main deck.

Mid 20's. Owned by Murray Shipping.
Funnel moved farther back indicating the
turning around of the steam plant in the early 1920's.

Late 20's. Small cabin now appears
on the first deck at the stern.
Marion was best known during her days as one of the passenger steamers of the Murray Shipping Company. In December 1934 she left Morgan for the first of what became regular Summer cruises. She went upstream as far as Renmark, then down to Goolwa and back to Morgan.
After the Murray Shipping Company went into liquidation in 1952, Marion was sold a number of times and spent some years as a floating boarding house in Berri. In 1963, Marion was bought by the National Trust to be used as a memorial to the River Navigation Era. She sailed down river to Mannum under her own steam on what was then thought to be her last voyage. Captain Bill Drage, who captained the Marion during her years as a passenger steamer, took the helm on that voyage.
For over thirty years Marion rested in the historic Randell Dry Dock at Mannum, where the local branch of the National trust maintained her as a static museum. In 1989 the Mannum community and Council decided that the best way to preserve the Marion for future generations was to conserve and restore the boat to being fully operational. The Mannum Dock Museum Board was appointed to manage and develop the facilities and opportunities of PS Marion and Randell Dry Dock as the core of the Australian Museum of River History.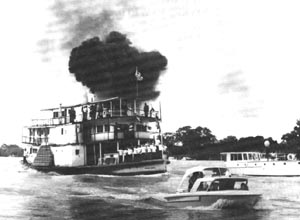 Marion's intended last voyage to the Mannum Dock in 1963.
Major restoration work was undertaken with great love and attention to detail, this work has involved many tens of thousands of volunteer man hours. The superstructure has been restored to what it was in her heyday as a passenger steamer, with cabins, lounges, dining room, galley and bathrooms. Marion was recommissioned in November 1994
Based in Mannum, the steamer is open to the public everyday and runs passenger trips through the year. It provides a unique opportunity to experience the thrills and mysteries of the golden years of the river boats and will go on doing so for many years to come.

The man who first launched a steamer on the broad breast of the River Murray was William R. Randell and there was no prouder, more honourable name in this state. He was an old pioneer in the double sense, since in his early life he helped to develop the land, and later, took a premier part in developing Australia's great River Murray system, with which his name would be forever indelibly associated.
In the latter part of 1837 William Randell determined, probably after long thought, to build a steamer and navigate the Snowy River diggings - a bold idea. The timber for the boat was cut at Gumeracha and carted to Mannum. Fandell had little or no experience in boat building or machinery, but such details did not daunt, much less deter old settlers. Perhaps a new process being adopted overcame some of the difficulties. The vessel was built bottom up, and then turned over, right side up for completion. When the river rose the boiler was put in and she was floated off.
On March 25th 1853 the first steam boat that ever floated on the Murray, "Mary Ann", with Captain W.R. Randell (the owner) and his brother Thomas as the crew, took her departure for the cruise up the Murray loaded with 20 tons of cargo. The water was low but she made her way as far as Penns Reach, 20-30 miles above the North-West Bend and there stuck. Unable to proceed further, a return was made to Mannum. That was voyage No.1, not a striking adventure, but the beginning of a great future, and therefore ever memorable.
Randell's Dry Dock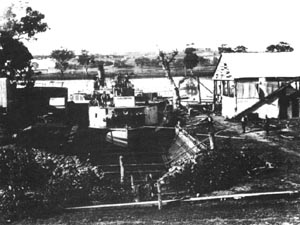 The dock was originally built to be a floating dock by Thomas Smith of Milang for A.H. Landseer and it was launched 18th September 1873. From historical details the original length was 144ft wide with a depth of 9ft. It is said to be the largest floating dock in the southern hemisphere, and the only dock of its type in Australia.
There was not enough depth in the River to operate it, so it was sold to Captain Randell who excavated the bank just downstream from the wharf at Mannum. The new graving dock was completed 5th July 1876 and the first vessel, The PS Lady Daly, made use of it only one day later on the 6th July 1876.
Unfortunately the dock attempted to float. In response, piles were driven through the floatation tanks at the side and through the floor. Great logs were laid across the landward corners and piles of stones were laid on top. In 1906 it was repaired again.
The last commercial use was to service the PS Marion in 1927. The site is of historical significance because of its association with Randell. It is archaeologically significant as the only remaining example of this type of dock on the River Murray.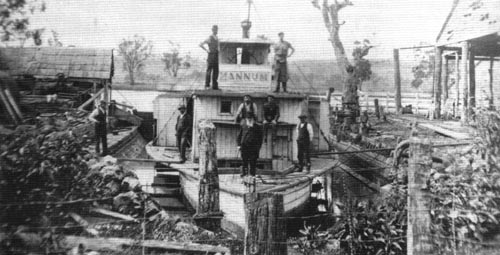 ps MANNUM in Mannum Dry Dock, Capt. W.R. Randell on the foredeck.
Image courtesy "Ships of the Inland Rivers".
Randell's Beam Engine
The beam engine was built by John Key of Kircaldy and was used to pump water from the dock when a paddle steamer was inside. When not employed for this task it was used to pump water to two underground tanks for irrigation for the gardens at Randell's home "Bleak House" on the hill above the dock.
An engine of this type would use a beam. The connecting rod from the piston is connected to one end of the beam while the "pitman" from the crank is connected to the other end. The beam is pivoted at its centre. The traction engine would drive a centrifugal pump to move 40,000 gallons of water per hour through a 9 inch pipe (register 12th June 1876).
This engine is of historical and archaeological significance as a remnant of past technology and its association with the first irrigated garden, ship building technology and economy, and as the only remaining graving dock on the river.
Mannum Dock Museum
Features the PS Marion and the historic Randell Dry Dock site.
Open for inspection from:
9am - 4pm Monday to Friday
11am - 3pm Saturday and Sunday
Throughout the year PS Marion undertakes short cruises from Mary Ann Reserve at Mannum and is also available for charter.
For further information phone:
Mannum Tourist Information Centre
Ph: 1300 626 686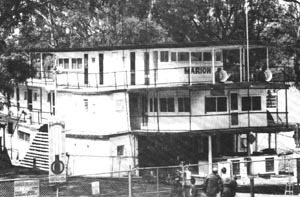 1964 to 1994. The Marion as a static museum in the Mannum Dock.
---


Tell your friends you found this at murrayriver.com.au!

Copyright Discover Murray 2022. This site or any portion of this site must not be reproduced, duplicated, copied, sold, resold, or otherwise exploited for any commercial purpose that is not expressly permitted by DISCOVER MURRAY.