Thanks for using Discover Murray River
The Man From Snowy River - Reality Or Myth?
Corryong Courier, January 20th, 1949:-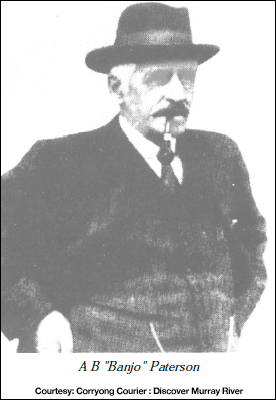 Following a controversy in the paper several months ago regarding the reality or the mythical state of "The Man From Snowy River", we publish the beliefs of three local stockmen - Messrs H Barlee, J McInnes and D Benson - who, with many other Upper Murray residents, believe that Jack Riley whose body lies in the Corryong cemetery, and which the Shire Council erected a tombstone, was The Man From Snowy River of whom Banjo Paterson wrote.
Article by Gordon Williams in the "Argus" supplement:-
"Up in the cattle country around Kosciusko they will tell you that the hero of Banjo Paterson's "The Man From Snowy River' was no myth but really lived. Banjo Paterson's "The Man From Snowy River" is not great verse. It lacks the graces and the subtleties that are the hallmark of Helicon, and Banjo himself had no illusions about it, nor, for that matter, about any of his verse-children.
"Scant in their worth," he said, "their merits indeed but slight."
There, however, selfcriticism sinned against reality. There is merit in "The Man From Snowy River", else it couldn't have survived the recurrent mutilations it has suffered from the assaults of innumerable bush elocutionists. There is worth in its texture, else it would not live and pulse its inspection and atmosphere.
Today, if you wander about the western slopes of Kosciuszko, you will not escape the shade of The Man From Snowy River. He is no pallid wraith, no scrap of wispy ectoplasm, either. He has a name, and a home, and a character; he is still a solid citizen, though he was gathered to his ancestors long ago.
Around Khancoban, Towong, Groggin, and other places where The Man From Snowy spent his little day, the stockmen name him John Riley as both Banjo's inspiration and hero.
You may not tell the cattlemen of the great runs out there that Banjo's poem had no hero - that The Man was a synthesis, a combination of all the characteristics and qualities that Banjo had discovered in the mountain riders.
"No doubt about it," they tell you, "John Riley was Banjo's Man. We can prove it. It happened this way."
And story after story is advanced as evidence. There are certain slight inconsistencies to be noted in this mass of proof, contradictions even but such variation is to be expected when history merges into legend, when legend slips back into history, and when the fallibility of the human memory be assessed.
Most of the facts were held in the story told me by Mr H Barlee, of Khancoban, who had, as a boy, known Riley, then employed by Mr John Pierce on the Groggin run:
"Pierce, way back in 1930, told me in detail how John came to supply Paterson with the inspiration for his verse," Mr Barlee said.
It appears that Banjo, during a visit to Bringenbrong, was escorted by Peter and Walter Mitchell, two well known graziers, up Kosciuszko way, and, passing through Groggin, the party stayed the night with John Riley at his station hut. There they heard the story of Riley's memorable ride, as a young man, down the slopes and through evil country in chase of horses.
It was this ride - through a thousand hazards where "the wild hop scrub grew thickly and the hidden ground was full of wombat holes, and any slip was death" - that gave birth to Banjo's poem, Mr Pierce contended.
"The Man From Snowy River" appeared soon after Banjo had heard the story of Riley's ride," says Mr Barlee, "and if he did not use John as his hero, at least he used his achievement for his text. Riley was no stripling on a small and weedy beast when Banjo met him, certainly; but he was only a youth when he defied the mountains to unseat him in his headlong flights"
The story of one ride by Riley, when he was long past his prime, was detail perfect in John Pierce's mind, and this was the way he told it:
"A station-bred horse, gone wild, was running on the Leatherbarrel Mountain, on the road to Kosciuszko from Groggin.
The horse had defeated every attempt to catch him, although all of his "running mates" had fallen victim to the stockmen's strategy. The wild one had become a legend, as elusive as smoke, as defiant as lightning.
However, his continuous challenge was too much for the stockmen. His capture became a matter of necessity, a needed balm for a wounded proper pride. So a council of war was held and a plan of campaign devised to trap the outlaw.
A yard was built in a strategic position across tracks near a creek which the horse habitually crossed, and duties were assigned to each member of the chase.
Came the great day, and the hunting party found the magnificent outlaw high on a ridge. They deployed, to sweep in upon him from many angles with the intention of compelling him into the yard.
But they had underestimated their quarry. He broke into a furious gallop, but for once abandoned his normal "run" to the creek, and broke away to hurtle down a precipitous slope that no rider had ever braved.
"It was as though he had sensed our plan," Mr Pierce said. "As he flashed down that cliff - it was little less, anyhow - and as he weaved through the thick timber and the scrub and dodged the wombat holes, we said good-bye to him - we didn't think any man could follow him down.
But John Riley, the "stripling" no longer, pulled his hat down over his ears, and with a wild yell charged down after the outlaw while his friends held their breath. Riley vanished from sight in a flurry of heels and a shower of dirt - and hardly a man among the hunters thought to find him alive.
More circumspectly, the others made their way down to the trap-yard across the creek trail. There to their amazement, was the horse, yarded and winded, and there too was Riley - coming back up the slope.
Riley was not very talkative about what had happened from the time he disappeared from view until the time he ended his chase.
But he did vouchsafe the hint: "See here, now," he said (Riley always prefaced any statement with that phrase), "I went so fast down the slope the wind got in me eyes and the tears blinded me."
And, blind, he had ridden past the yard, into which the quarry had careered head long, and was unaware of the capture until his breeze-tortured eyes had cleared.
"It is difficult to imagine what Riley rode like down that slope," Mr Pierce would say. "The lash of branches, the menace of boulders, the clawing brush must have made it a nightmare, but John Riley enjoyed it.
Again, as told by Mr John McInnes, of Towong, Riley was chasing horses that had "gone wild" from the Groggin homestead. Again all attempts to trap them had failed the outlaws racing for shelter in a patch of venomous scrub country.
Riley had grown tired of failure, so he resolved that he would head them off by careering through a patch of equally bad territory littered with fallen timber. He cut-off the outlaws flight, all right; and then occurred the epi- A B "Banjo" Paterson sode which the stockmen say Banjo imprisoned in his lines: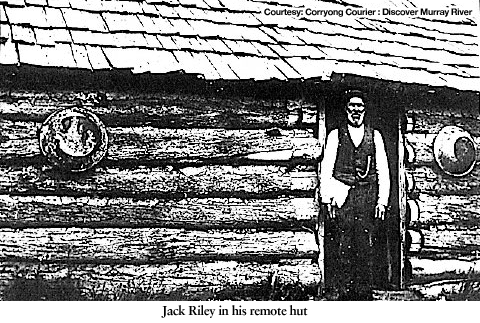 And he ran them single handed till their sides were white with foam,
He followed like a bloodhound on their track, Till they halted, cowed and beaten then he turned their heads for home,
And alone and unassisted brought them back, But his hardy mountain pony, he could scarcely raise a trot,
He was blood from tip to shoulder from the spur.
When the rest of the party came up with John, who was riding a baldfaced bay, Pierce saw that the wild rider's legs were covered with blood. Examination showed that the horse, not John, was hurt - torn by a stake, a snag of timber beneath an arm, so severely that the shoulder seemed half severed.
"See here, now," mused John, examining the injury, "I was wondering what made her falter as we came through the timber patch up there."
Further evidence of Riley's identity with the Man From Snowy River comes from Mr Don Benson, also of Khancoban. Mr Benson relates that, when taking over the Ingeegoodbee cattle run from John Freebody, of Moonbar, near Jindabyne, he was shown the remains of an old hut - a stone chimney, rapidly falling into rubble.
"That," said Freebody, "is all that is left of Jack Riley's hut, where he lived in the early years of his life." This hut at Eulamuna, near the border of NSW and Victoria, right on the banks of the Snowy. In Paterson's verse, the Man "hails from Snowy River up by Kosciuszko side, where the hills are twice as steep and twice as rough."
It would be difficult (says Mr Benson) to find a place in the mountains rougher and steeper than the country round Riley's hut, and more over, the terrain fits exactly Paterson's description of his hero's home country.
So there is no doubt among the stockmen of the Kosciusko foothills about the identify of the Man from the Snowy.
It was, they declare, none other than John Riley - John Riley, whose horsemanship is a legend, whose grave is in Corryong Cemetery; John Riley, whose name is still uttered about the stockmen's fires, as in a high moon they see.
On a dim and distant hillside the wild horses racing yet, with the Man from Snowy River at their heels.
---


Tell your friends you found this at murrayriver.com.au!

Copyright Discover Murray 2022. This site or any portion of this site must not be reproduced, duplicated, copied, sold, resold, or otherwise exploited for any commercial purpose that is not expressly permitted by DISCOVER MURRAY.