Thanks for using Discover Murray River
Parks Victoria's & NSW tips for preserving the Murray River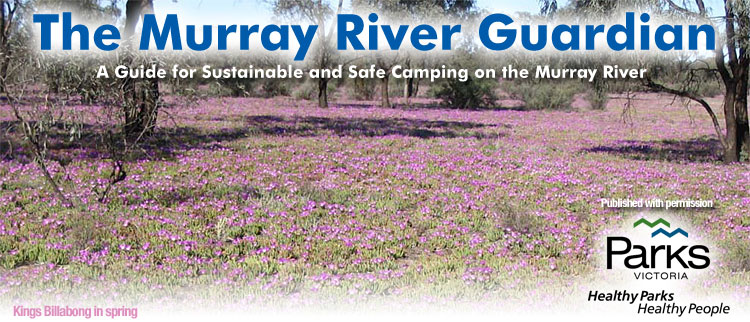 On this page:

Welcome to the Murray River Parklands (Victoria / New South Wales)

They say the less you've got the more you appreciate what you have got and I think we are getting to be that way with the Mighty Murray. As its resources reduce the competition for what remains increases. With the prolonged drought, that is certainly the case with the Murray and some of her resources are starting to feel and show the strain of added visitor numbers, reduced ability to recover and reduced river flows.

It is everyone's responsibility to look after our iconic natural resources, but Parks Victoria's staff have more responsibility than others and so we are the face of protection that you will see on the south side of the river which is where most visitors will be too.

If you see Parks Victoria's rangers while you are staying on the Murray, please take the opportunity to approach them to seek advice, clarification or assistance.

We seek your support in helping to looking after the river, and in partnership with all our fellow supporters and sponsors listed at the bottom of this page, we hope your stay will be as pleasurable as possible.

Let us know what you think about the Murray River Guardian, what's useful, what's interesting, what other information you would like to see included. Email.

Hamish MacLennan
Chief Ranger Murray Central

Dale Antonysen
Chief Ranger Mallee

Don't Muck up the Murray
Show that you care about our precious waterways and remind others to do the same.
Take away all the rubbish you have created
Follow the rules and regulations for camping
Make sure that your vessels are not polluting the water
Respect and protect plants and animals
Keep to roads and tracks
Don't throw rubbish or other items into the water
Know and respect the rules for safe boating
Stickers can be collected from: NSW Maritime Office in Moama, Tourism Information Centre,
Port of Echuca Gift Shop, Murray River Marine/Gone fishing (Annesley Street) and Rich River
Auto and Marine (Annesley Street).

Tommy McRae - Yacaduna
Tommy McRae, or Yacaduna to give him his Aboriginal name, is considered to be one of the foremost Aboriginal artists of the 19th Century.
Tommy was probably born in the 1830s in North East Victoria and may have been of the Kwat Kwat people. As he grew up, Tommy witnessed huge changes with the arrival of Europeans to both Aboriginal life and the landscape. In his early life Tommy worked for squatters as a stockman making several trips to Melbourne droving stock. Later in the 1860s, unable to live in a house in Rutherglen, Tommy settled at Lake Moodemere living with his family, animals and chooks in a bark hut.
A prolific and accomplished artist with pen and ink, Tommy recorded the Aboriginal life of his youth from memory. His drawings of his people hunting, fighting and at ceremony are surprisingly active, expressive and often humorous. One sketch shows a scene of a hunter stalking emus behind a screen of leaves followed by his wife and child while above is a scene of party of Aboriginal well armed warriors chasing two obviously terrified Chinese labourers across the page. Other sketches of later years include well dressed squatters, their wives and sometimes their houses as Aboriginal life changed for ever.
Tommy was relatively well off as he was able to make a living from the sale of his drawings and produce. Settlers wanting some of his work would buy a sketch book from the local shop for Tommy to fill with his artwork. Despite the high regard Tommy had from the community, and his best efforts to avoid authority, both of Tommy's children were taken away to become part of the stolen generation. Tommy died in 1901 and was buried close to the lake in Carlyle Cemetery.

Kings Billabong Wildlife Reserve
By Linda Newitt and Kym Schramm, Parks Victoria
A new management plan has been produced to protect Kings Billabong Wildlife Reserve - considered to be one of the Sunraysia regions most highvalue conservation reserves.
Located right on Mildura's doorstep and bordering a wide stretch of the Murray, the 2154ha Kings Billabong Wildlife Reserve is home to wetlands of international significance. Many species of waterbirds live on the billabong including Whistling Kites and Swamp Harriers.
The new plan is the result of extensive consultation between Parks Victoria and the local community and was prepared through a collaborative partnership between Parks Victoria and the Mallee Catchment Management Authority. The management plan seeks to protect and enhance this important area and its values while encouraging tourism and recreational activities such as bushwalking, nature appreciation, cycling, picnicking, camping, fishing, bird watching, canoeing, dog walking, horse riding and car and motorbike touring at sustainable levels.
A rich history
Local Indigenous people have enjoyed the Billabong's rich life-supporting wetland food supply for thousands of years. Shell middens (kitchen hearths), burials and scar trees indicate a lifestyle celebrated on these banks for centuries. The Billabong was an important meeting place between Murray nations and travellers from the south.
Kings Billabong took its name from the indigenous word for still water - billabong, and its European name from Captain James King, who navigated the Murray River and its tributaries in the late 19th century.
The Chaffey Brothers from Canada selected Kings Billabong as the central water supply to establish the Mildura Irrigation Settlement. By 1891 a 1000 horse powered pumping engine was installed at Psyche Bend to maintain the water level. The restored steam-powered pump at Psyche Bend can often be seen operating on key holiday weekends.
Today, the reserve is supported by the Friends of Kings Billabong who can regularly be seen helping to maintain the health and integrity of this special place.
Best ways to enjoy Kings Billabong
Visit the viewing area - A new viewing area, located off Cureton Avenue, overlooks the Billabong and includes on-site information detailing the many attractions of the reserve:
Take a walk
Kings Billabong Lookout - Enjoy spectacular panoramic views over the Billabong and take a short 200m loop walk down to the waters edge
Bird Hide Loop Walk - Beginning at the Billabong Walks Car park, this is an easy 3.5km loop walk for the family. From the Bird Hide view the abundance of waterbirds living on the largest part of the Billabong
Ducks Foot Lagoon Walk - This moderate 9.5km loop walk, also beginning at the Billabong Walks Car park, offers fantastic photo opportunities and a longer walk for those with more time to explore
Go canoeing
The Billabong is excellent for canoeing and kayaking. The Mildura Visitor Information Centre can provide information on local licensed tour operators to help you explore the Billabong. Remember to always wear a lifejacket; beware of snags and wear appropriate clothing to avoid glare and sunburn
Go bird watching
The Billabong is a birdwatchers' paradise with Australian pelicans, black swans, herons and many species of ducks to be viewed. A bird list for the Mallee area can be obtained from the Mildura Visitor Information Centre
Take a picnic - Enjoy the many picnic facilities in the reserve offering delightful views of both the Murray River and the Billabong
Go camping
Camping is permitted within the reserve for a maximum of 7 days, between Bruce's Bend Marina and the turnaround south of Psyche Bend and between Red Cliffs boat ramp and Woorlong Avenue. Both of these camping areas are between the Murray River and Murray River Track
Go fishing
Boat ramps are located at Bruce's Bend, Psyche Bend north of Psyche Pumps, and at Red Cliffs in the southern block of the reserve
A New South Wales Freshwater Fishing Licence is required to fish in the Murray River. A Victorian Recreational Fishery Licence is required in Victorian waters. Certain exemptions are available.
Contact fisheries officers from either state for details - Victoria 13 6186 or NSW 1300 550 474

Tawny Frogmouth - camouflage champion
By Brenda Cheers
The most common nocturnal bird found in most areas in Victoria is the Tawny Frogmouth, a small to medium size, dark coloured bird often mistakenly referred to as an owl or frogmouth owl. The frogmouth call is a very deep, long, low 'ooom' repeated often. It can be heard over long distances.
The Tawny frogmouth is the smallest of only three frogmouths found in Australia. It is the only one found in Victoria.
Frogmouths normally breed from August to November. If spring conditions are suitable, they will breed twice. In the dry inland areas of Australia breeding takes place after rain.
Nests are made of dry sticks which are broken into short lengths and criss-crossed in the fork of a tree. Frogmouths prefer to nest on an exposed branch rather than amongst leaves. Dry leaves are sometimes used to line the nest but not always. Preferred trees are within a forest or scrubby area rather than a solitary tree. As a rule two eggs are laid, sometimes three. They are white with a dull lustre. The chicks are fluffy white balls, only the large gaping bill making it obvious which way is up! Young leave the nest after approximately 35 days, but will stay with the parents.
During the day the birds roost on exposed, usually dead, branches. Their camouflage is excellent, their soft grey feathers and paler all-over underside streaked black ensure mum, dad and family can melt into the dead branches of a tree and be virtually impossible to see, even from only a metre away. They elongate their bodies, tail resting on the branch, stretch their necks to full length and close their large, round, yellow eyes.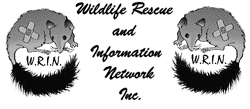 Frogmouths have broad wings and generally are not strong fliers over long distances. Roadside vegetation strips are important for them, apart from using the scrubby roadside areas for nesting, they will watch over the road at night waiting to swoop on a tasty morsel. They feed on moths, beetles, caterpillars, centipedes and the like, as well as the occasional frog or mouse which will be 'beaten to a pulp' before swallowing.
Unfortunately their habit of 'roadside' dining and their even worse habit of swooping in front of cars to get at food picked up in a cars lights often makes them road accident victims. They are one of the most commonly injured bird patients taken to vets or wildlife shelters for care. Because of their mostly very quiet nature and unusual looks, they are also one of the unluckiest birds in that many people who pick them up on the roadside choose to take them home rather than to a vet or wildlife carer. Consequently many injuries that may have been treatable are beyond repair when the birds are finally surrendered.

Campfire Safety

In National and State Parks campfires are only allowed in permitted areas in properly constructed fireplaces to reduce damage to the environment. Try using fuel stoves as they are cleaner, cook faster and don't scar the landscape.
In State Forests use a constructed fireplace where provided or use a fuel stove. Otherwise light your campfire in a trench 30 cm deep, to prevent embers flying out. Take care as some tree roots can burn.
A properly constructed fireplace is one that contains the perimeter of the fire. Rocks can be used to construct a fireplace in state forests. Select rocks carefully as they provide homes for small reptiles and insects.
If you light a campfire, you are legally responsible for ensuring it is safe, does not escape, and is completely extinguished before you leave it unattended.
Is it safe to light?
Lighting a campfire, gas or fuel stove is illegal on Total Fire Ban days
It is up to you to find out if a Total Fire Ban is in place. If in doubt, keep your campfires out
Don't light a campfire if the wind is strong enough to carry embers
Before you strike that match, you must also remember:
Campfires should only be lit in a constructed fireplace or confined to a trench 30cm deep (if permitted) and must be attended at all times by an adult
Make sure your campfire has an area of three (3) metres clear of any flammable materials such as leaves, twigs, overhanging branches and camping equipment Keep your campfire small; no larger than one (1) square metre in size
Make sure that your campfire is completely extinguished with water every time you
leave it. If it's cool to touch, it's safe to leave and it can't go bush!
Generators/portable motors - Most parks and reserves do not allow portable motors to be used - check with the local ranger. When using them in State forests:
Stationary engines must be fitted with spark arresters on exhausts before leaving home.
Engine must be clear of all flammable material within 1.5 metres on the ground and the surrounding air space.
Keep a supply of water near by in case of emergency - especially in dry, windy weather. Alternatively you may chose to carry a knapsack with 9 litres of water or a dry chemical extinguisher with you.
Keep leads from generators clear of tracks to avoid tripping hazards
Place the generator in a hollow if possible to reduce noise, which can disturb other campers and native animals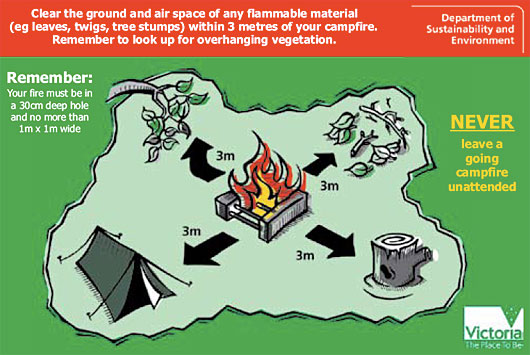 8 Important Tips to preserve the Murray's Parks

Motorbikes and Four-Wheel Drives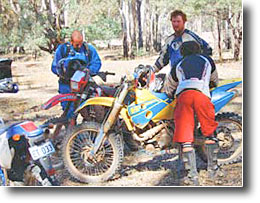 Motorbikes or four-wheel drives are an excellent way to explore the beautiful Murray River environment. You are welcome to use roads open to the public in parks and forests provided you follow existing regulations and laws. One person driving off road or "bush bashing" can cause major damage and give trail bike riding and four-wheel driving a bad name.
When trail bike riding or four-wheel driving in parks/forests:
You must drive only on roads open to the public
You must be fully licensed
Your vehicle must be registered and roadworthy
Vehicles must not be driven off formed roads
Roads open to vehicles in parks and forests are public roads, so all normal road laws apply and are enforced by Police. Trail bikes and other vehicles may only use roads constructed for the passage of vehicles with at least four wheels. Walking tracks or tracks created informally by vehicles are not roads. Some roads are closed to all but management vehicles, bicycles and walkers. Some roads may be closed seasonally for safety reasons, weather, or to minimise erosion. These roads are usually signposted or enforced by barriers and may not be used while they are closed.
RECREATION REGISTERED vehicles and bikes are permitted on public roads in parks and forests, the driver must be 18 years of age, have a current licence and the vehicle or bike is roadworthy. Minimum roadworthy requirement for a Rec Reg motorbike includes indicator lights, right hand rear vision mirror, headlight, rear brake, tail and number plate light, a horn, chain guard, brakes fitted to all wheels and a silencing device capable of restricting the engine noise level to not exceed 94dBA.

What to do with injured wildlife
Do not handle the animal or bird more than necessary. Remember, they are wild animals, not pets.
Care must be taken when dealing with ill or injured wildlife. They will be very frightened at being approached and handled, and may try to defend themselves by biting or scratching. Shock is the biggest killer, so warmth, darkness and quiet are very important. Place a blanket or jumper over the injured animal or bird to reduce stress and to keep it warm. Remove injured wildlife from roads by picking them up firmly from behind. Be firm and keep away from teeth and claws. Always wash hands thoroughly after handling as some animals can transmit diseases to humans. What to do if you find orphaned wildlife
Many native animals are killed on the road, leaving orphaned pouched young still alive. If you find a dead adult marsupial, carefully remove it from the road and check its pouch for young. It is important to keep pouched young warm by wrapping them in a blanket or jumper, as they are unable to generate their own body heat. Do not try to feed any pouch young as they need a special diet and feeding the wrong milk could kill the baby. A warm (not hot) hot water bottle and a woollen jumper will keep the baby warm until it is taken to a shelter. Do not try to stand joeys up or let children play with them. They cannot show their stress the same way as domestic animals.
Take the orphaned animal to a wildlife shelter as soon as possible for urgent care. WRIN Inc is an organisation dedicated to the rescue and rehabilitation of native fauna found injured, sick or orphaned. It is fully endorsed by the Victorian Government Department of Sustainability and Environment but is not funded by it. WRIN members are all volunteers. For further information call 0419 356 433 or visit www.wrin.asn.au

Houseboat Drivers - Don't Muck Up The Murray!
Always make sure children are wearing a life jacket and not left alone
Drink driving rules apply on the river as well as on the roads
Drive the houseboat on the right hand side of the river, which is the opposite to a car on the roads in Australia
Be aware of the current and wind, as they may alter your navigation course
Be aware of logs sticking out when pulling into banks on the downstream side as you have to back out and may drift into them
Be aware of low hanging branches if you have a top roof on the houseboat as you may hit them
Watch for children swimming out and trying to hop on the boat, as they may go under the pontoons near the propeller
Don't allow anybody to jump off the roof into the water as you don't know the depth of the water and there are submerged logs
Make sure your boat meets all NSW Maritime's requirements, including life jackets and fire extinguishers
Don't allow any more than the allocated number of people on the boat - whether stationery or moving
Make sure your boat meets Australian standards for electrical, gas and plumbing and that maintenance is always kept up
Use common sense at all times as you are navigating the waters with swimmers, skiers and fishermen as a houseboat doesn't respond quickly
Bazza The Bunyip Stickers are available from: Port of Echuca Office - Echuca Camping and Fishing, High Street - NSW Maritime Office (Thursdays and Fridays) - J&T Fishing, 16 Meninya Street, Moama

Hattah Lakes - a Living Murray Icon Site
The Living Murray program was established in 2002 in response to evidence that the health of the River Murray system is in decline.
The Living Murray is a partnership of the Australian, New South Wales, Victorian, South Australia and Australian Capital Territory governments. The program's implementation marks the beginning of a practical "first step" forward for one of the world's biggest river restoration programs. The first stage of the Living Murray project focuses on improving the environment at six "icon sites" along the river The sites were chosen for their high ecological value (most are listed as internationally significant wetlands under the Ramsar convention) and also their cultural significance to the Indigenous people and the broader community.
Each icon site has an environmental management plan outlining the desired environmental outcomes. The plan includes the volume and timing of environmental water and structural works needed to realise these results. With input from local communities, the plans are updated annually.
The Living Murray Icon sites are:
Barmah-Millewa Forest, just downstream of Tocumwal and near Deniliquin
Gunbower-Koondrook-Perricoota Forests, just downstream of Echuca
Hattah Lakes, between Ouyen and Mildura
Chowilla Floodplain and Lindsay-Wallpolla Islands, near the border between South Australia, NSW and Victoria Lindsay- Wallpolla Islands
River Murray Channel, from near Albury NSW, to the ocean in South Australia
The icon sites are important breeding sites for waterbirds and provide habitat for native fish, birds and plants. However. they have suffered ecological decline and are at risk of further damage due to river regulation and other factors such as drought.
The aim of the Living Murray's first stage is to maintain the healthy aspects of the icon sites and begin addressing the decline in other areas. This is part of a larger effort to restore the health of the River Murray.
One of the six icon sites, Hattah Lakes is a large floodplain wetland consisting of shallow lakes, streams and temporary swamps, bordered by riverine forest. It is located in Ramsar listed Hattah-Kulkyne National Park under Parks Victoria management. The lakes provide feeding and breeding for iconic Mallee species such as Regent Parrot, Lace Monitor, Silver Perch and Broad-bellied River Turtle. The lakes have cultural significance for Aboriginal people and contain over 1000 registered cultural heritage sites including shell middens, hearths and scar trees.
The lakes and surrounding park are also important for regional tourism attracting thousands of domestic and international visitors every year.
River regulation has significantly altered the natural flooding regime of the Hattah Lakes. Consequently, vegetation communities around the lakes and waterbodies are declining. Parks Victoria, the Mallee CMA, Murray Darling Basin Commission and DSE are working collaboratively with the local community and Indigenous stakeholders to ensure that the ecological recreational and cultural values of the Hattah Lakes are maintained.
This will involve installing permanent structures such as regulators and pumps to enable water to be delivered and held within the lakes when seasonal conditions permit.

Play it Safe by the Water
When enjoying Victoria's wonderful coastline, lakes, river systems, public and home swimming pools, remember the following:
Know your environment
There are different safety rules for beaches, rivers, lakes and public or private swimming pools
Be aware of the local water environment and weather before entering the water Behave safely
Obey all water safety signs
Don't drink alcohol while in charge of a boat and make sure someone is looking out for you
Remember these messages
Who's looking out for you?
Never swim unsupervised
Never take your eyes off toddlers and small children
Always swim between the red and yellow flags at a lifesaver-patrolled beach
Check it's OK to swim at a river, lake or beach
Play it Safe, take your mates
INLAND WATERS - CHECK IT'S OK TO SWIM
What's so dangerous about inland waterways?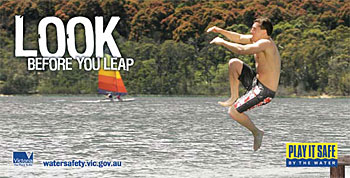 Unfortunately, many people drown in Victoria's inland waterways. Tragedy can be avoided if you check it is safe before you enter the water.
Always check it's okay to swim at an inland waterway, river or lake. The best way to check is to ask someone who knows the area - a shopkeeper, caravan park owner or someone who lives nearby. They are most likely to know the dangers and direct you to a safe swimming spot.
Every year people are paralysed after diving into shallow water in rivers and lakes. Remember to enter the water carefully. Always enter the water feet first.
Lake safety
Lakes may look calm but remember winds can create choppy waves, making it dangerous for swimming and boating
Strong currents are likely wherever a river enters a lake, which makes the bottom of lakes and rivers soft, uneven and changeable. Beware of submerged objects. Enter the water feet first
Cold water in lakes can be lethal. It is often much colder beneath the surface than you think. Suddenly getting into cold water can cause distress, shock and lack of mobility. If you feel cold, get out of the water immediately
Floating toys are great fun to play with, but take care on windy days when you can be easily blown away from shore River safety
River currents are often stronger than they appear. You can throw in a twig to check how fast the river is flowing
Remember, the current is stronger around the outside of a bend in the river
If you are caught in a current, float on your back and travel downstream feet first to protect your head from impact with any objects. Angle your travel towards shore
Submerged objects can be very dangerous. Keep watch for trees, branches, rocks and rubbish. Always remember to enter the water feet first
Remember, river conditions can change rapidly due to heavy rainfall or the release of water from storage areas. An area that is safe in the morning can be dangerous in the afternoon
Take care of riverbanks. They are often slippery and can even crumble away resulting in someone accidentally falling into the water
Boat safety
Seek up-to-date local knowledge, particularly if your are going boating, as conditions of rivers and lakes may be affected by low water levels
Take extreme caution and operate your vessel at a safe speed taking into account the low water levels
Tree stumps and other previously submerged objects can present a hazard to the safe operation of boats - particularly those operating at speed. It is the responsibility of the boat operate at a safe speed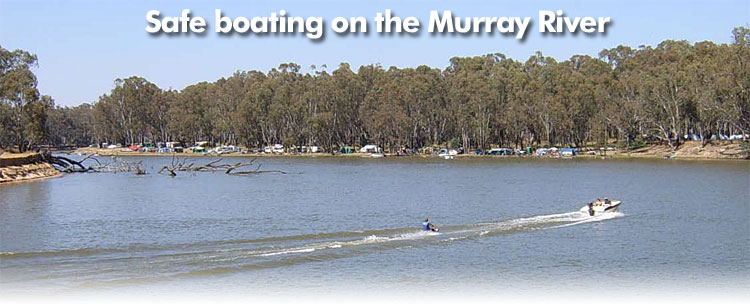 Safe boating on the Murray River, lakes and inland waters
NSW Maritime is responsible for providing safe and sustainable ports and waterways in NSW. This includes the waters of the Murray River south of the NSW bank to the high water mark on the Victorian bank of the main channel.
NSW has 12,5000sq km of navigable waters and 2,140km of coastline. $60 billion of trade passes through the state's ports each year and more than 445,000 people hold recreational or commercial vessel licences. More than 220,000 vessels are registered in the state and 2,500 are in survey.
GENERAL BOATING
All vessels must travel at a safe speed at all times. A safe speed is one in which the vessel can be stopped in time to avoid any danger that may suddenly occur (such as a navigation hazard or another vessel). In judging a safe speed the master must consider a number of issues: visibility, navigation hazards and other vessels.
Distance off - If you are operating a power boat at a speed of 10 knots or more on NSW navigable waters you must hold a boat licence and keep well away from people and objects in the water. There are minimum distances you must keep from obstacles. If you cannot keep these distances, you must slow down to under 10 knots. The closer you get, the slower you must go.
You must keep 30 metres from any person or anything in the water when you are travelling at 10 knots or more and 60 metres from a person in the water if you are towing a water skier or aquaplaner.
RECOGNITION OF LICENCES
Temporary recognition of interstate, Territory and overseas licences exists.
PERSONAL WATERCRAFT
Personal Watercraft (PWC) is the term used to describe craft with trade names such as Jet Skis, Waverunners and Sea Doos. Regardless of the type of PWC, it is important for operators to remember that PWCs are a type of power boat and are subject to similar regulations and laws.
PWC differ from other vessels in that they are highly manoeuvrable, have different handling characteristics and when used carelessly they can present a danger and nuisance to both the rider and to other people using our waterways. All PWC must be registered if used on NSW waterways and the operator must hold a PWC licence.
The driver and passengers must wear an appropriate life jacket when riding a PWC. Distance off - When driving a PWC at 10 knots or more, you must keep a distance of:
at least 60 metres away from a person in the water and small non-powered vessels such as surf skis, canoes, vessels four metres or less in length without mechanical propulsion
at least 30 metres from any powered vessel (including other PWCs), any river bank or shore and any structures such as jetties, moorings and non-propelled vessels over four metres in length.
Irregular Driving - PWC are not permitted to be used for 'irregular driving' within 200 metres of the shoreline in bays, rivers and other waterways within PWC restriction zones and within 200 metres of the shoreline where one or more dwellings are visible within 200 metres of that shore.
Irregular driving includes driving in a circle or pattern and weaving or diverting. It does not include making any necessary turns or diversions.
The requirements concerning irregular driving within 200 metres of the shoreline do not apply to PWC when they are towing a water skier or aquaplaner. However, when the operator of the PWC ceases to tow a water skier or aquaplaner, the irregular driving rules come into effect.
TOWING
Distance off - When towing a water skier or aquaplaner at any speed, you must keep the vessel or PWC and the person being towed a distance of:
60 metres from all boundaries of a designated swimming area/surf zone, a person in the water and small, non-powered vessels such as sailing craft (four metres or less in length)
30 metres from any powered vessel (including other PWC), any river bank or shore and any structures such as jetties or moorings and any sailing vessel over four metres in length
Note: Fines for riding a PWC without a licence are served upon the rider AND the owner.
SAFETY EQUIPMENT CHECKLIST
Mandatory
Life jackets (Personal Floatation Device - PFD) 1 per person
Waterproof torch
Bailing bucket
Bilage Pump
Appropriate Fire Extinguisher
2 Oars or Paddles (on boats less than 5 metres)
Anchor and line (NSW)
Highly Recommended
First Aid Kit
Fresh Drinking Water
Tool Kit
Radio or Telephone
Maps
Spare Fuel
Sunscreen and Hat
Additional warm clothes
SAFETY CHECK - BEFORE LEAVING SHORE
Check life jackets
Check fire equipment
Check First Aid equipment
Check the weather forecast
Check for mechanical faults on the boat
Check/know your location in case of emergency
IMPORTANT FACTS
Alcohol - The blood alcohol limit on the water is the same as on the roads - .05% ... but be careful, the wind, waves and the sun combine to multiply the effects of alcohol. Your chances of disorientation and drowning are increased
Under 18 years - 0
Over 18 year - .05
Commercial - .02
These limits also apply to both skiers and observers
All powerboats capable of 10 knots or more must be registered
Safety equipment must be well maintained and readily accessible at all times
A life jacket must be available for every person on board -wear it
REMEMBER:
Always keep a proper lookout for people in the water, other craft or obstructions
Pay particular attention in areas were submerged and semi-submerged hazards
Be safe - not sorry
For further information call the NSW Maritime Authority Info Line on 13 12 56 or visit www.waterways.nsw.gov.au or www.marinesafety.vic.gov.au

NSW Recreational Fishing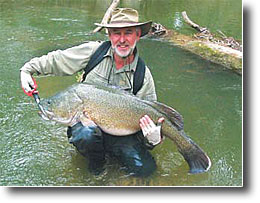 The whole of the Murray River to the South Australian border, including all of Lake Mulwala, is covered by NSW Fishing laws. Lake Hume is covered by Victorian Fishing laws.
Please note some major rule changes to the NSW fishing laws were implemented on 3 September 2007. This summary includes the applicable changes. Regulations and prices are subject to change without notice.
A NSW fishing licence is required to fish the Murray River, even if you are standing on the Victorian bank.
When fishing in NSW waters you are required by law to carry a receipt showing the payment of the NSW Recreational Fishing Fee. This also applies when hand lining, hand gathering, trapping and bait collecting or when in possession of fishing gear in, on or adjacent to waters.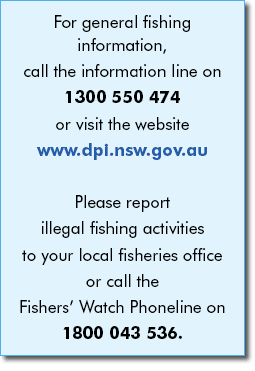 You can help protect fish and conserve their habitat by:
Working with the Department to apply for funds from relevant funding programs, including the Statewide Habitat Grants Program, to carry out aquatic habitat protection and rehabilitation projects
Looking after fish habitat while you are fishing by careful riverbank, foreshore and boating access
Promoting the importance of fish habitats to sustainable recreational fishing to other fishers or your fishing club and getting your club actively involved in protecting and rehabilitating fish habitats
Reporting all activities which threaten aquatic habitat or fish species such as waterfront developments, illegal river works and illegal fishing to the nearest local fisheries office or Fishers Watch Phoneline on 1800 043 536
Identifying habitat issues and fish passage barriers in your area and letting the Department know about them
Reporting fish kills to NSW Department of Primary Industries immediately when they are detected on 1300 550 474
Taking home any rubbish, especially plastic bags, old line and hooks
Obtaining and following recreational fishing codes of practice such as the National Code of Practice for Recreational and Sport Fishing available from Recfish Australia on 07 3356 1111 or website www.recfishoz.com
Adhering to bag limits for fish and bait
Interstate and Overseas Visitors - Recreational fishing licences issued by other states, territories or countries are not valid for fishing in NSW waters. All visitors must pay the NSW Recreational Fishing Fee and have the receipt in their possession unless exempt.
Exemptions from holding a NSW fishing licence - persons under 18 years of age, an adult ssisting persons under 18 to take fish using a single rod, a person fishing in a private dam less than 2 hectares, an Aboriginal person fishing in freshwater and holders of Pensioner Concession Cards and some Veterans Affairs Cards. Please check the website for further details regarding exemptions. Note: Senior's Cards, Health Care Cards and Repatriation Health Cards do not
exempt you from holding a NSW fishing licence.
How Much Is The Fee? - Fees are $6 for 3 days, $12 for 1 month, $30 for 1 year and $75 for 3 years. If you go fishing aboard a charter vessel or with a fishing guide, you may find that your skipper or guide holds an exemption certificate which covers you as well.
Where Do I Pay The Fee? - You can pay the NSW Recreational Fishing Fee at many outlets throughout NSW such as over the counter at most fishing tackle shops. You can also pay the fee at most caravan parks, local shops, service stations, many Kmart stores, on online at www.dpi.nsw.gov.au or phone 1300 369 365.
General Information
Access - In most cases you may fish in any stream from a boat or while walking on the streambed, regardless of who owns the adjacent land. You must get the owner's permission to cross private land or walk along the bank adjacent to a stream.
Bait - Frogs, birds, mammals or live finfish including carp, must not be used as bait.
Crayfish - All crayfish must be landed whole. Tails, heads and claws must not be detached in, on or adjacent to the water. It is an offence to keep crayfish with eggs or to remove those eggs.
Explosives - It is illegal to use any explosive device to take or assist to take fish.
Fishing Season - General freshwater fishing is permitted at all times except in restricted areas.
Fish filleting - Although you may clean the fish by gilling and gutting you must not alter the length of the fish by filleting or removing the head until you are well away from the water. This rule does not apply at areas normally used for the cleaning of fish (boat ramp cleaning tables) or if the fish are for immediate consumption or immediate use as bait.
Illegal Fishing Methods - It is illegal to take fish by intentional jagging or foulhooking, by net (other than a landing net for a legally hooked fish) or by the use of a gaff. A maximum set time of 24 hours will apply to all fishing gear, eg hoop nets, yabby traps.
Sale - It is illegal for recreational fishers to sell their catch.
Spear guns - You may not use spear guns, spears, bows and arrows, firearms, chemicals or poisons to take fish from freshwater.
Transporting or Storing Fish - You may not transport or store fish in excess of the possession limit.
WARNING: Freshwater mussels and other shellfish may be contaminated through either pollution or naturally occurring algae. If you intend to eat your shellfish catch, NSW Food Authority recommends you cook them thoroughly but this may not always be enough to avoid illness in the case of some algae or viruses. Eating contaminated shellfish can cause serious illness or death.
General Rules for Line Fishing
For Native Fish - Rods and lines - up to 2 attended lines (other than in some notified trout waters) in all non-tidal NSW waters (ie no more than 50 metres from you and in your sight). They may be rigged with no more than two hooks per line. If you wish to carry excess spare lines, they must not be rigged for fishing and should be stored away.
Setlines: are prohibited in all non-tidal waters of NSW
Traps and Nets - Legal dimensions, mesh sizes and closed areas for traps and nets are available from your local fisheries office. In certain waters, you may use, or have in your possession, a maximum of 5 yabby traps, 1 shrimp trap and 5 hoop (lift) nets - all tagged with your name and address. Specific closures may prohibit the use of, or limit the number of, traps and nets. A maximum set time of 24 hours will apply to traps and nets.
Mesh sizes: For soft netting such as used in hoop nets, mesh size is calculated across the diagonal. Use common sense when placing your set fishing gear. Do not set gear in areas of high boat traffic or navigation channels. To minimise the risk of entanglement by people or boats, any buoy rope used to mark set fishing gear must be as short as practical and preferably weighted below the surface. Fisheries Officers may shorten ropes they believe to be a hazard. Freshwater Legal Lengths, Bag and Posession Limits
Explanation Of Terms: Legal length: The minimum length of a fish unless otherwise stated. A fish which does not reach this minimum length must be returned to the water immediately. Some species have maximum length restrictions to protect larger breeding females. Fish in excess of bag limits, protected fish, female crayfish with eggs and fish taken out of season must also be returned immediately to the water.
Bag limit: The maximum number of fish taken per person in one day. Possession limit: The maximum number of fish per person if you have been fishing for more than one day. This is equal to twice the daily bag limit unless otherwise stated. You may not transport or store fish in excess of the possession limit.
---


Tell your friends you found this at murrayriver.com.au!

Copyright Discover Murray 2022. This site or any portion of this site must not be reproduced, duplicated, copied, sold, resold, or otherwise exploited for any commercial purpose that is not expressly permitted by DISCOVER MURRAY.